Estimated Delivery
Expected delivery date:
Tuesday, 24 May 2022
If you order within:
12h 36m 20s
*Your cart must meet the minimum requiretments for next day delivery
Fast
Delivery
Quick
Assessment
UK Registered
Pharmacy
Discreet &
Confidential
Overview
FAQ
Side Effects
Information leaflet
Reviews
What is Duac Gel Once Daily
Acne is a very common issue with an estimated 80% of people aged between 11 and 30 suffering with an outbreak of it as some point. It can be highly distressing and can affect the confidence of the sufferer as well as being extremely painful in some cases.
The powerful double action of Duac's active ingredients can help you to overcome your acne struggles, clearing the infection from within and bringing back your natural skin tone and texture.
Can I buy Duac online?
Duac Once Daily can be purchased online only once it has been prescribed. To get a prescription you must fill in a short medical questionnaire which allows our health experts to assess whether this treatment will be beneficial for your situation. If not you will be advised as to which treatment may be preferable based on a number of factors including information such as your current health and any other medications you are taking or using.
Once you have received your prescription you can purchase Duac online and it will be sent to you by next day delivery where possible.
How long can I take Duac for?
Duac is known to get to work within 48 hours and results can be seen from as little as two weeks. It is important to persevere with the treatment but to discontinue use after 12 weeks to give the skin a break.
To avoid your acne coming back after you stop using the treatment, you may be advised to use a 2% to 4% benzoyl peroxide product for a minimum of a week after your stop Duac.
Other Warnings to consider
Duac's ingredients can bleach clothing and towels so be aware of what you put on when using it and when drying your face.
What are the side effects of Duac?
Different people will react in different ways when using a product such as Duac but the most common side effects of the gel can include:
dryness
itching
redness
mild peeling of the skin
a burning sensation
If you experience any major side effects including severe redness, burning or stinging, or excessive peeling then stop the treatment and consult with your Click Pharmacy doctor or GP.
In some rare cases, the antibiotic can get into the body's digestive system where it will do its job of killing all bacteria there aside from Clostridium difficile which can trigger diarrhoea. If you experience diarrhoea, stop using the treatment and book an appointment with your doctor that day to discuss your next steps. You can book a free and confidential online appointment with the doctors at Click Pharmacy at any time.
How effective is Duac?
Duac contains two powerful active ingredients called clindamycin phosphate and benzoyl peroxide. Together they are designed to effectively treat the bacterial infection by breaking down the comedones, the black and white heads, which will in turn unblock the glands.
The two ingredients, when working together, are known to be highly effective in dealing with acne with 50% of blemishes clearing up in as little two weeks in some cases where Duac is applied. It has also been shown to remove nearly double the number of blemishes than it's closest acne-fighting competitor, and 10% more by the end of the first month of use.
Why choose Duac?
Duac is a popular choice because it only needs to be applied once a day making it an easy treatment to use. It is also preferable for anyone who does not wish to take tablets as the skin is still getting the benefit of an antibiotic without the need to swallow a pill.
Another reason for its popularity is that together, the ingredients can remove nearly all acne bacteria on the skin, clearing it up and easing the discomfort of outbreaks in a matter of weeks. In fact, clindamycin, the antibiotic contained in Duac, is the number one antibiotic used for clearing up acne in the UK. One major reason for this is that the other antibiotic sometimes prescribed for acne can stain teeth whereas Clindamycin does not.
What is contained in Duac?
Duac is a gel which contains two active ingredients; an antibiotic designed to kill the bacteria causing the acne called clindamycin and an acne-fighting antiseptic called benzoyl peroxide.
How should I take Duac?
Duac is designed to be used once a day, in the evening. It is important to wash the skin with a mild cleanser before applying the gel to ensure the skin is as clean as possible.
The treatment must be applied in a thin layer to all affected areas of the skin rather than only on specific spots.
It is important to apply sparingly. If the gel is difficult to rub in you have used too much.
How does Duac work?
Clindamycin is widely used to fight many bacteria based infections including Propioni bacterium acnes, the bacteria which feeds on the sebum produced within the skin's sebaceous glands. This bacteria produce fatty acids and waste products which begin to irritate the glands causing them to become inflamed and erupt into acne-like spots. The application of clindamycin controls the number of bacteria able to survive on the skin, thus stopping the irritation and inflammation and allowing the skin to heal.
The medication fighting alongside the antibiotic in Duac is benzoyl peroxide which is a keratolytic, a medicine designed to break down the protein forming part of the structure of the skin known as keratin. The application of this antiseptic breaks down skin cells causing them to shed and break down the comedones, also known as blackheads and whiteheads, with it. This then clears the sebaceous glands which means fewer comedones can be formed.
Duac gets to work in as little 48 hours with the clindamycin killing bacteria which causes the acne, and then, any bacteria left behind is then cleared up by the antibacterial benzoyl peroxide.
What is Duac Gel used to treat?
Duac Gel is used to treat the bacterial infection acne.
What is the active ingredient in Duac Gel?
Duac Gel contains two active ingredients, clindamycin and benzoyl peroxide. These ingredients work well together to treat symptoms of acne.
How does Duac Gel treat acne?
The active ingredients, clindamycin and benzoyl peroxide, breaks down skin cells clearing the glands meaning fewer comedones.
Do I need a prescription to purchase Duac Gel?
Yes, you require a prescription to purchase Duac Gel. After completing a short questionnaire on our website you will be provided a prescription to allow you to purchase Duac Gel.
How should I apply Duac Gel?
After using a mild cleanser you should ensure your skin is dry. You should then apply a thin even layer of Duac Gel around all the infected areas. You should repeat this process once every evening.
How often should I use Duac Gel?
You should use Duac Gel once every evening after cleansing your skin.
How long after using Duac Gel does it take to notice a difference?
After using Duac Gel most people begin to notice an improvement in their acne in as little as two weeks.
How long should I use Duac Gel for?
You should use Duac Gel for no more than twelve consecutive weeks. After twelve weeks you should stop using Duac Gel for some time.
Who should not use Duac Gel?
You should not use Duac Gel to treat acne if you have any intestinal disorders.
Can I go out in the sun while using Duac Gel?
Using Duac Gel makes your skin more sensitive to the sun. You should try to avoid exposure to the sun. you should always wear sunscreen with an spf of at least 30.
Can I use a tanning booth and beds while using Duac Gel?
You should not use any type of tanning bed or booth when using Duac Gel to treat your acne.
Can pregnant or breastfeeding women use Duac Gel?
It is advised that pregnant or breastfeeding women do not use Duac Gel unless it is unavoidable. You should discuss the risks and benefits with a GP or pharmacist who may be able to recommend an alternative product.
Can I use other acne treating medications while using Duac Gel to treat my acne?
You should not use any other acne medications while using Duac Gel. If you feel that you need to use another product you should always consult with a GP or pharmacist before doing so.
Can my acne come back if I stop using Duac Gel?
By completing your treatment you reduce the chances of the bacterial infection coming back. However there may be other factors that determine whether or not the acne will come back.
While using Duac Gel to treat acne you may experience a number of side effects. Using a moisturising cream or lotion can help to reduce many of the side effects that this gel may cause. Common side effects include:
Dry skin
Redness
Burning
Skin peeling
Itching
If any of these side effects worsen, you should stop using Duac Gel and speak to a GP or pharmacist as soon as possible.
Always read the patient information leaflet before starting your treatment. The patient information can be found here.
Authored by Jana Abelovska
Last reviewed 20 April 2021
How to order
Order your medication in a few clicks. Our process is easy, fast and secure.
Step 1
Quick Health Check
Fill out a questionnaire so our prescriber can assess if the treatment is suitable for you.
Step 2
Select a Treatment
Choose the medication you require from the range offered by our online pharmacy.
Step 3
Next Delivery
Add delivery details and complete payment process.
What do our customers say?
Jane Cooper
January 29, 2022
Fabulous service, quick and assertive, nice to be able to have an alternative service whilst the nhs are struggling!
Kristin Watson
January 2, 2022
Happy with how quick they reply to me and the
Delivery was quick as well would definitely use them again in the future.
Robert Fox
December 9, 2021
Glad to have you there. Efficient, professional service. The next day delivery is always delivered on time as promised.
Medical News and Blogs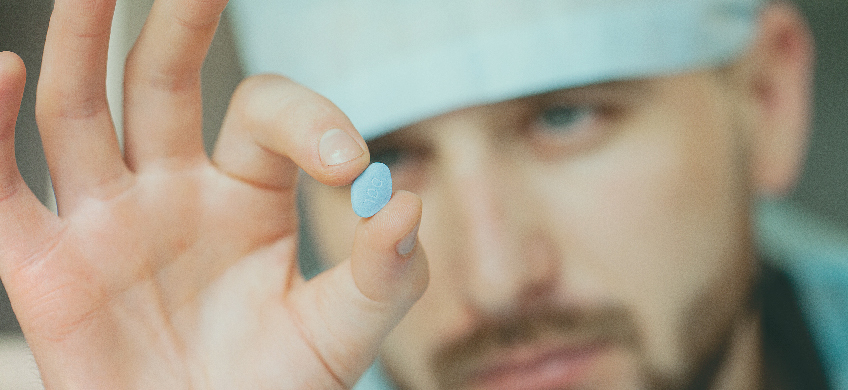 How The Little Blue Pill Revolutionized Relationships
It all began in 1998 when one of the greatest modern medical marvels was approved for sale in the world. Viagra, also affectionately called 'The Little Blue Pill', was originally meant....
Read