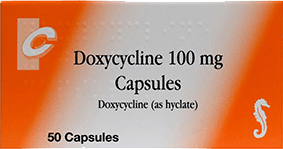 Estimated Delivery
Expected delivery date:
Tuesday, 10 May 2022
If you order within:
12h 36m 20s
*Your cart must meet the minimum requiretments for next day delivery
Fast
Delivery
Quick
Assessment
UK Registered
Pharmacy
Discreet &
Confidential
Overview
FAQ
Side Effects
Information leaflet
Reviews
What is Doxycycline
Doxycycline is a tetracycline antibiotic that is effective in fighting a broad range of bacterial infections in many different parts of the body. It is an antibacterial drug used in the treatment of bacterial and parasitic infections such as bacterial pneumonia, cholera, Lyme disease and acne.
Other health issues to be treated by Doxycycline include urinary tract infections, intestinal infections, eye infections, gonorrhoea and (gum disease).
Before using this medication, it is important to consult your doctor to ensure you aren't allergic to it or any other form of tetracycline antibiotic.
What are the side effects of Doxycycline?
It is unusual to experience side effects when taking this medication however some users may experience nausea, vomiting and diarrhoea, a loss of appetite, itching of the rectum or vagina, a sore or irritated throat and swollen tongue, dry mouth, anxiety, back pain and changes in colour of scars, skin, eyes, nails or mouth.
In some cases, it can also make the skin more sensitive to sunlight and as such, it would be necessary to wear suntan lotion and long sleeved clothes, as well as a hat and sunglasses whilst taking the medication.
If you are allergic to doxycycline or else you experience any of the following, it is crucial to seek medical care right away:
headache and blurred vision, seeing double or loss of vision
a rash that may occur with swollen glands or a fever
skin peeling, redness or blistering
difficulty breathing and swallowing
swelling of the eyes, face, throat, tongue and/or lips
unusual bruising and/or bleeding
stomach cramps, watery or bloody stools
joint and/or chest pain
Long-term side effects can include:
discolouration of adult teeth
Why choose Doxycycline?
While doxycycline is most commonly used to prevent and treat malaria, it is also frequently prescribed by doctors to treat mild to severe acne. The use of doxycycline in this instance can significantly improve the appearance and confidence of those who suffer from this common skin condition.
Alongside these types of infection, it also works on those spread by mites, lice and ticks and, in the case of malaria, mosquitoes, by preventing the growth and spread of bacteria.
Can I buy Doxycycline Online?
Doxycycline can be purchased online with a prescription from either your GP or one of the doctors at Click Pharmacy. You will be advised as to what amount you will require to complete the appropriate treatment.
It comes in packs of 100mg tablets in the following amounts:
1 week (37 tablets)
2 week (44 tablets)
3 week (51 tablets)
4 week (58 tablets)
8 week (86 tablets)
12 week (114 tablets)
How effective is Doxycycline?
While doxycycline is efficient in tackling various infections including pneumonia, chronic bronchitis, sinusitis, pelvic inflammatory disease and oral herpes, it is very commonly used and highly effective at preventing and treating malaria. It is one of the most effective medications to take when travelling in areas where malaria is resistant to chloroquine.
The effectiveness of doxycycline is affected by certain medicines and supplements including antacids which contain calcium, magnesium, aluminium and iron. As such, if you are prescribed any of these medications then it will be advisable to take your doxycycline 2 hours before or 6 hours after taking antacids and 2 hours before or 4 hours after products containing iron.
Whilst it is a highly effective defence against malaria, it does not give 100% protection so you must also use insect repellants, wear long sleeves and trousers, use mosquito nets and take other such protective measures.
What dose should I choose?
While this treatment can be taken regularly, it is usually intended for short-term use and you will need to consult a medical professional to determine the ideal dose for you. You can also contact our experts at Click Pharmacy via telephone or email for further help and guidance.
Generally, the dosage is 1 or 2 doses prior to departure, as well as throughout your trip and for 4 weeks after leaving an area where you could be exposed to malaria.
How should I take Doxycycline?
Doxycycline must be taken at the same hour each day for as long as it has been prescribed, and not in greater or smaller quantities than recommended. For malaria, it is important to follow the treatment plan exactly to ensure that you are fully protected from the disease.
It is recommended that the tablets are taken while standing, with food and a large glass of water or milk and if you forget to take a tablet, take it as soon as possible.
Do not double the dosage in the case of forgetting a tablet.
What are the advantages of taking Doxycycline?
The three main anti-malaria tablet options are equally effective and each one will be prescribed based on the drug resistance to strains of malaria in the area you are travelling to, as well as which is best to be used alongside other medications you are taking and whether or not you are pregnant. There are also no psychological implications with Doxycycline and it is one of the most affordable forms of an anti-malarial.
What does Doxycycline contain?
Each capsule contains either 50mg or 100mg of Doxycycline base. Other ingredients include:
gelatin
magnesium stearate
shellac glaze
sodium lauryl sulfate
starch
How does Doxycycline work?
Doxycycline works quickly to kill bacteria that can cause a number of infections in the body. It prevents bacterial protein synthesis, meaning it ultimately stops bacteria from multiplying and spreading. If you're using this medication to prevent or treat malaria, Doxycycline will kill the parasite responsible for causing the illness. Similarly, if being used to treat acne, the treatment will reduce the overall amount of bacteria on the skin and eventually clear up the problem.
What are Doxycycline Capsules used for?
Doxycycline Capsules are an antibiotic used to treat bacterial infections. They can be used to treat infections such as pneumonia, cholera, malaria, and lyme disease.
Can Doxycycline Capsules be used to treat acne?
Doxycycline Capsules are sometimes prescribed to treat severe cases of acne.
Do I need a prescription to buy Doxycycline Capsules?
Yes, you require a prescription to purchase Doxycycline Capsules. After completing a short online questionnaire on our website, you will be provided with a prescription to allow you to purchase Doxycycline Capsules.
Can pregnant or breastfeeding women use Doxycycline Capsules?
Pregnant or breastfeeding women should not use Doxycycline Capsules. This is because it can affect the growth of teeth in children.
Can children use Doxycycline Capsules?
Children under the age of 12 years old must not use Doxycycline Capsules. This is because these capsules affect the growth of teeth and children under the age of 1 have several teeth growing.
Can I drink alcohol while taking Doxycycline Capsules?
You should not drink any alcohol at all while taking Doxycycline Capsules.
What is the difference between Doxycycline Capsules and Vibramycin-D?
While they are both effectively used to treat bacterial infections the main difference is branding and price. Vibramycin-D is the branded version of Doxycycline, making it more expensive than Doxycycline.
How often should I take Doxycycline Capsules?
It is advised to take one 100mg or 200mg capsules once or twice a day at regular intervals.
However if you are taking Doxycycline Capsules to prevent malaria, it is advised to take one 100mg capsules in the morning.
How long should I take Doxycycline Capsules for?
If you are travelling to a malaria infected country you should start taking Doxycycline Capsules 1 or 2 days before you arrive. You should continue to take these capsules for 4 weeks after you have left the infected area.
How should I take Doxycycline Capsules?
You should swallow one whole capsule of Doxycycline with a glass of water. You can take these capsules with or without food however to prevent nausea it is advised to take them after a meal.
What if I forget to take Doxycycline Capsules?
If you forget to take your dose of Doxycycline Capsules you should take it as soon as you remember, unless it is almost time for your next dose. If it is almost time for your next dose you should skip the previous dose you just missed and continue as normal. You should never take two doses at once, even if you are making up for a skipped dose.
Like all medicines, after taking Doxycycline Capsules you may experience a number of side effects. Common side effects and how to overcome them include:
Headache: you should drink plenty of water to ensure you are hydrated. You should also take painkillers such as ibuprofen or paracetamol.
Nausea: you should stick to simple and well balanced meals. To prevent nausea it is advised to take Doxycycline after a well balanced meal.
Sensitivity to sunlight: when you go outside you should wear full sleeved clothes and sunglasses. You should also wear sunscreen with an SPF of at least 30. You should refrain from using artificial tans and tanning beds.
Always read the patient information leaflet before starting your treatment. The patient information can be found here.
Authored by Jana Abelovska
Last reviewed 20 April 2021
How to order
Order your medication in a few clicks. Our process is easy, fast and secure.
Step 1
Quick Health Check
Fill out a questionnaire so our prescriber can assess if the treatment is suitable for you.
Step 2
Select a Treatment
Choose the medication you require from the range offered by our online pharmacy.
Step 3
Next Delivery
Add delivery details and complete payment process.
What do our customers say?
Jane C
January 29, 2022
Fabulous service, quick and assertive, nice to be able to have an alternative service whilst the nhs are struggling!
Kristin W
January 2, 2022
Happy with how quick they reply to me and the
Delivery was quick as well would definitely use them again in the future.
Robert F
December 9, 2021
Glad to have you there. Efficient, professional service. The next day delivery is always delivered on time as promised.
Medical News and Blogs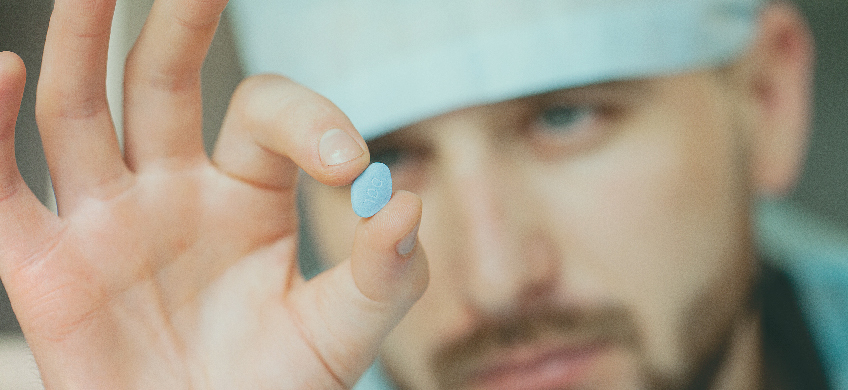 How The Little Blue Pill Revolutionized Relationships
It all began in 1998 when one of the greatest modern medical marvels was approved for sale in the world. Viagra, also affectionately called 'The Little Blue Pill', was originally meant....
Read