-10%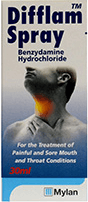 Estimated Delivery
Expected delivery date:
Tuesday, 10 May 2022
If you order within:
12h 36m 20s
*Your cart must meet the minimum requiretments for next day delivery
Fast
Delivery
Quick
Assessment
UK Registered
Pharmacy
Discreet &
Confidential
Overview
FAQ
Side Effects
Information leaflet
Reviews
What is Difflam Spray
Difflam spray is a product that can deal with a sore throat efficiently and without causing any serious side effects. Benzydamine hydrochloride is the active substance on this product and what helps you relieve sore throat due to its anti-inflammatory properties.
How effective is Difflam Spray?
Of all the products that have been studied and tested, Difflam spray shows the highest level of efficacy in treating sore throat. Recent studies involving about 400 people show that using this product more often and correctly helped them treat their sore throat effectively and fast. Also, Difflam spray is licensed by local and international regulatory bodies, thus proving that it's effective and safe to use.
Can I buy Difflam spray online?
Many companies sell this product online, thus making it easy to access. However, you must do some research before purchasing this spray from any site online. Why? Researching several sites enables you to find the most reliable and legit company that will deliver the spray faster hence allowing you to relieve your sore throat immediately. Also, conducting research helps purchase high-quality Difflam spray, thus ensuring you get great benefits.
What dose should I choose?
The Difflam spray is known to be effective, but you have to use it in the best and recommended way to get results. Children between 6-12 years of age should spray about four puffs of this product to the sore areas every 1 ½ to 3 hours.
For adults, adolescents and the elderly, spraying 4-8 puffs every 1 ½ to 3 hours is enough to provide the desired results. Always avoid swallowing the spray after use to prevent any severe effects. You should also avoid bringing the spray into contact with eyes to help prevent any damage.
How should I take Difflam spray?
To use the Difflam Spray correctly, ensure you hold it in an upright position.

Lift the spray-tube with a 90° angle until it's horizontal.

If it is the first time you're using the spray, then you must prime it first. To do so, point the Difflam spray away from your face then press down on the green plunger until you notice a fine spray at the end of the spray-tube. At this moment, your spray is ready for use.

Aim the spray at the sore part of your throat then press down on the green plunder. Doing so releases one puff. So, you should repeat this until you get the number of puffs you need.

After using the spray, wipe the end of your tube with a tissue. Why? Doing so helps reduce the chances of that end, getting some blockage that might tamper with the amount of spray you get in your puffs.

Push your spray tube back down carefully to prevent any accidental releases that might waste your product or even let in impurities.

In case the end of your Difflam tube becomes blocked, do not push objects in it. Instead, return it to your pharmacist so you can get professional help.
You can use this spray for as long as you want, depending on the severity of your sore throat. However, ensure that you do not use it for seven consecutive days. Try and skip some days to allow your body to fight the sore throat on its own. Doing so helps experience more benefits, thus heal faster and without getting severe side effects. Also, combine this spray with other methods like staying more hydrated. Alternating this spray with other tricks will help you get more effective results and even heal faster.
How does Difflam spray work?
Difflam contains Benzydamine hydrochloride, which has unique anti-inflammatory properties. So, using this product enables you to reduce the inflammation you might have in the throat. Doing so helps reduce the pain and discomfort that you are feeling, thus treating the sore throat significantly. Unlike other medications, Difflam spray moisturizes the painful parts allowing you to feel comfortable and relieved when the Benzamide hydrochloride is working on your throat, thus making the treatment more effective and bearable.
How long do I take Difflam Spray for before I notice a difference?
The exact amount of time that it might take before feeling the relief that this product provides varies from person to person. However, most people report that using Difflam spray offers significant relief from a sore throat almost immediately. So, expect to feel relief instantly after use or in less than five minutes.
When shouldn't I take Difflam spray?
To help you avoid experiencing any severe side effects, do not use this spray if:
You are breastfeeding as some chemicals might reach the baby causing unpredictable effects

You are pregnant to avoid causing any harm to the sensitive unborn baby

You are allergic to Benzydamine hydrochloride or any other ingredient in the Difflam spray

You are using other medications since they might react with this spray hence worsening your condition
What are the side effects of Difflam spray?
Difflam spray is safe to use. However, it can also cause several side effects to some people. Here are the side effects that you might experience:
Skin rash

Itching

Skin redness or swelling

A stinging feeling in the throat or numbness
Some people might also experience severe side effects like allergic reactions causing breathing difficulties, chest pain or tightness, swelling of the face, lips, tongue, nose, or throat, big lumps on the skin and dizziness. If you experience any of these severe side effects, you must seek medical attention immediately. You can also consult a doctor before using this spray to help determine if you are medically fit to reduce the chances of experiencing such side effects.
What is the difference between Difflam spray and other similar products like Chloraseptic Sore Throat Spray and Covonia Throat Spray?
You can use any of these three products to treat a sore throat. However, the Difflam spray is hugely different from Chloraseptic Sore Throat Spray and Covonia Throat Spray. How? The Difflam spray containing anti-inflammatory Benzydamine is actively fighting against the cause of the sore throat. Chloraseptic Sore Throat spray and Covonia Throat spray only contain numbing ingredients that will soothe the pain but won't fight against its cause.
What is Difflam Spray used to treat?
Difflam Spray is used to treat symptoms of a sore throat.
Is Difflam Spray suitable for children to use?
Difflam Spray is not suitable for children under the age of 6 years old to use.
How should I use Difflam Spray?
Children aged between 6-12 years old should spray 4 times, aiming at the throat. This process should be repeated every 1.5-3 hours.
For anyone over 12 years old you should 4-8 times, aiming at the throat. This process should be repeated every 1.5-3 hours.
Do I need a prescription to purchase Difflam Spray?
No, you do not require a prescription to purchase Difflam Spray.
What is the active ingredient in Difflam Spray?
The active ingredient in Difflam Spray is benzydamine hydrochloride. This ingredient is effective at providing relief to sore throats.
How does Difflam Spray work?
The active ingredient in Difflam Spray, benzydamine hydrochloride, contains anti-inflammatory properties. This reduces inflammation of the throat while also providing relief from discomfort.
How long after using Difflam Spray does it take to notice a difference?
Most people begin to notice an improvement in their sore throat immediately after using Difflam Spray. However this may vary depending on the severity of your condition.
Can pregnant or breastfeeding women use Difflam Spray?
Pregnant and breastfeeding women should not use Difflam Spray. This is because there is a possibility of it interfering with the general health of the baby.
Can I drive or operate machinery after using Difflam Spray?
Using Difflam Spray does not affect one's ability to drive or operate machinery in any way.
What is the difference between Difflam Spray and Benzydamine?
While effectively they are the same, the main difference is branding. Difflam is the branded version of benzydamine.
When should I stop using Difflam Spray?
After 7 days of using Difflam Spray you notice no improvement, you should stop using Difflam Spray and speak to a GP or pharmacist who may advise you to use a different drug.
How should I store Difflam Spray?
Difflam Spray should be stored in a cool dry place, at room temperature, out of reach from children. It should not be exposed to extreme temperatures or direct sunlight.
How should I use Difflam Spray?
You should hold the spray at a 90 degree angle inside the mouth aiming at the throat. After spraying you should swallow any remainder in your mouth to ensure it reaches the throat.
What if I forget to take my dose of Difflam Spray?
If you forget to take your dose of Difflam Spray you should take it as soon as you remember unless it is almost time for your next dose. If it is almost time for your next dose you should skip the previous dose. You should never take 2 doses at once, even if you are making up for a missed dose.
After using Difflam Spray it is unlikely to experience any severe side effects. Common side effects include:
Dry mouth
Thirstiness
Tingling sensation
Warm mouth
Disturbance in taste
These side effects are normally temporary and should disappear after a few uses as you get used to this product.
Always read the patient information leaflet before starting your treatment. The patient information can be found here.
Authored by Jana Abelovska
Last reviewed 20 April 2021
How to order
Order your medication in a few clicks. Our process is easy, fast and secure.
Step 1
Quick Health Check
Fill out a questionnaire so our prescriber can assess if the treatment is suitable for you.
Step 2
Select a Treatment
Choose the medication you require from the range offered by our online pharmacy.
Step 3
Next Delivery
Add delivery details and complete payment process.
What do our customers say?
Jane C
January 29, 2022
Fabulous service, quick and assertive, nice to be able to have an alternative service whilst the nhs are struggling!
Kristin W
January 2, 2022
Happy with how quick they reply to me and the
Delivery was quick as well would definitely use them again in the future.
Robert F
December 9, 2021
Glad to have you there. Efficient, professional service. The next day delivery is always delivered on time as promised.
Medical News and Blogs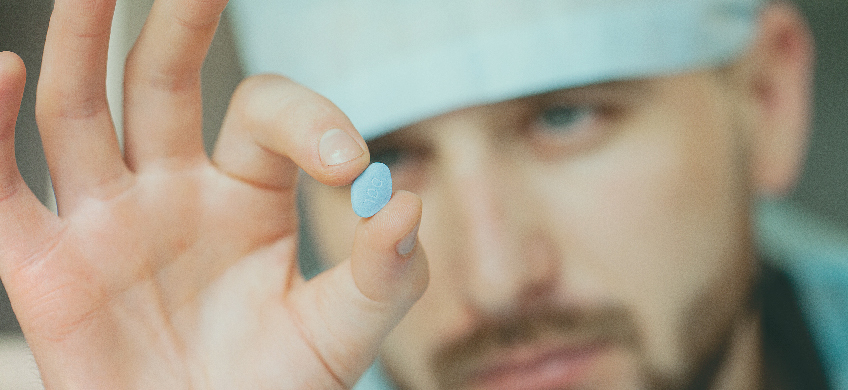 How The Little Blue Pill Revolutionized Relationships
It all began in 1998 when one of the greatest modern medical marvels was approved for sale in the world. Viagra, also affectionately called 'The Little Blue Pill', was originally meant....
Read