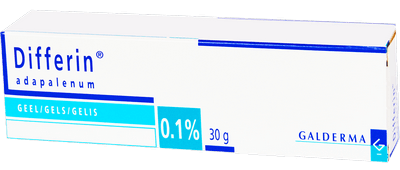 Estimated Delivery
Expected delivery date:
Tuesday, 10 May 2022
If you order within:
12h 36m 20s
*Your cart must meet the minimum requiretments for next day delivery
Fast
Delivery
Quick
Assessment
UK Registered
Pharmacy
Discreet &
Confidential
Overview
FAQ
Side Effects
Information leaflet
Reviews
What is Differin
Acne affects the oil glands and hair follicles within the skin, usually on the face but sometimes on other areas of the body too such as the neck and back. The pores, which connect to oil glands produce sebum, a substance which carries dead skin cells to the skin's surface, but sometimes the oil and skin cells plug the pore instead. The bacteria, which usually live harmlessly on the skin contaminate the plugged follicle and this can cause an infection which develops into acne. There are a number of different forms that this infection manifests itself as including papule, pustules, cysts and nodules but all fall under the term Acne.
Due to the infection being the main cause of acne, it is crucial you treat it as you would any other infection, with a medication such as Differin which works to clear the acne and stop further development of spots, whilst healing and decreasing any chance of scarring.
Can I buy Differin gel Online?
By filling in our short medical questionnaire, our doctors can ascertain whether Differin gel is the most appropriate treatment for your acne. This will be based on a number of factors including the severity of the infection and other medications you have tried or are currently taking. Once the doctor has given you a prescription, you can purchase your treatment online without having to visit your GP or chemist to pick up your medication. Instead, it will be sent directly to your address.
How effective is Differin gel?
Differin is an effective treatment for reducing inflammation making it especially beneficial for anyone suffering from black or whiteheads as well as pustules.
In fact adapalene, the active ingredient in Differin is a retinoid which has been found to have a number of benefits which acne fighting ingredients in other products, such as benzoyl peroxide and salicylic acid, cannot claim to offer such as:
its ability to balance the skin cell production
being a once a day only application
being anti-inflammatory
being non staining for clothing and sheets.
Differin has been proven to prevent acne from forming if used daily as recommended, and it is oil free meaning your face will not be slick or sticky. It also helps to restore your skin's natural texture and tone by fighting acne deep down within the pores where the infection starts.
Why choose Differin gel?
For anyone who has struggled to find an effective acne treatment Differin may be the next best step to take as it has been found to be very well tolerated when compared to other topical gels and creams containing retinoids. It is also a good option for people who struggle to take medication orally.
What is contained in Differin gel?
Differin contains the active ingredient adapalene, a retinoid medicine which is derived from vitamin A.
The inactive ingredients are carbomer 940, poloxamer 182, propylene glycol (E1520), disodium edetate, Phenoxyethanol, methyl para-hydroxybenzoate (E218), sodium hydroxide and purified water.
How should I use Differin gel?
Adapalene is for topical use only and not to be swallowed. Wash your hands prior to use followed by washing your face using a mild cleanser and patting the skin dry. Using the fingertips, apply a thin layer of Differin gel to the affected area or areas. Do not apply to the inside of your lips or inside the nose or mouth.
Typically you would use it once daily in the evening, though follow the guidance given to you by your doctor. Using more gel than required or for longer than recommended will not make the medication work more quickly and may result in irritating or painful side effects.
How does Differin gel work?
The active ingredient in Differin increases the turn over of skin cells creating a natural exfoliation type process to the surface layer. This unblocks pores and the sebaceous glands which produce the oil allowing this sebum (oil) to be released. This helps to decrease blackheads and oiliness. Adapalene also gives an anti-inflammatory effect too, lowering redness, heat and swelling.
How long can I take Differin gel for?
Your doctor at Click Pharmacy or GP will let you know the amount of time you should use Differin. It will begin to work from the first application, but whereas some people will see the benefits after one to two weeks, others may find it takes a month or two.
For the first few weeks, it may feel that your skin is appearing to get worse, but this is not the case. During this time, the medication is dealing with the issues under the surface so be patient and continue to use your gel for as long as recommended to ensure you get the full benefit of it
What are the side effects of Differin gel?
As with any medication, some patients may experience side effects whereas others may not.
The most common side effects of Differin include irritation, redness and dryness to the area of application as well as a slight burning sensation. These tend to be due to your skin getting used to the medication and can ease after a couple of weeks as it begins to tolerate it.
If you experience major irritation then speak to your doctor who may recommend you apply it less often or take a break from it.
Other Warnings to consider
Make sure you tell your doctor about any other medications you are taking or using to ensure they will not interfere with one another or make one or both of them less effective or even dangerous.
There are certain products which are to be avoided whilst using Differin:
other retinoids
peeling agents such as glycolic or salicylic acid
powerful cleansers or exfoliates
products containing astringents and alcohol
treatments which contain vitamin A
Due to the medication potentially causing sensitivity to UV light it is important you avoid spending an excessive amount of time in the sun and apply a block every day to avoid irritation and burning.
What is Differin Gel used for?
Differin Gel is used to treat symptoms of acne by stopping any further development of spots while also preventing any possible scarring.
Do I need a prescription to purchase Differin Gel?
Yes, you require a prescription to purchase Differin Gel. After completing a short online questionnaire on our website you will be given a prescription to allow you to purchase Differin Gel.
What is the active ingredient in Differin Gel?
The active ingredient in Differin Gel is adapalene. This anti-inflammatory ingredient is effective at fighting acne without causing any further damage to the skin.
How does Differin Gel treat acne?
The active ingredient, adapalene, allows for skin cells to begin naturally exfoliating. This unclogs pores allowing any build up such as oil to be released out of its cells.
How should I apply Differin Gel?
Prior to using Differin Gel you should wash your face with a mild cleanser and dry thoroughly. After your skin is completely dry you should apply a thin even layer of Differin Gel to infected areas. The gel should not be applied around the lips or nostrils.
How often should I use Differin Gel?
It is advised to use Differin Gel once in the evening before going to bed. However depending on the severity of your infection you may be advised to use it up to twice a day.
How long does it take for Differin Gel to work?
The gel usually reduces symptoms of acne within 1-2 weeks of use. However depending on the severity of the infection it can take up to 2 months for acne to clear up.
Can I use a moisturizer after using Differin Gel?
It is advised to use a gentle moisturiser after using Differin Gel. you should avoid using any harsh products for the length of the treatment.
What should I avoid while using Differin Gel?
While using Differin Gel you should avoid using the following:
Harsh exfoliants
Products containing vitamin A
Peeling agents such as salicylic acid
Can I go in the sun after using Differin Gel?
After using Differin Gel your skin becomes more sensitive to the sun. You should always use sunscreen before going into the sun for maximum protection. You should also avoid using tanning beds and salons.
Can I remove facial hair while using Differin Gel?
While using Differin Gel you should avoid harsh hair removal processes such as waxing and chemical depilatories.
Can pregnant or breastfeeding women use Differin Gel?
Pregnant or breastfeeding should refrain from using Differin Gel as there is a possibility of it causing harm to the baby.
Can I use Differin Gel if I suffer from eczema?
You should consult with a GP or pharmacist before using Differin Gel if you suffer from other skin conditions such as eczema.
Like all medication, after using Differin Gel you may experience a number of side effects. Possible side effects include:
Worsening of acne in the first 2 weeks of use
Dryness
Itching
Sensation of warmth
Stinging
Burning
These side effects should decrease as you continue to use Differin Gel. If any of these side effects worsen, you should stop using Differin Gel and speak to a GP or pharmacist.
Always read the patient information leaflet before starting your treatment. The patient information can be found here.
Authored by Jana Abelovska
Last reviewed 20 April 2021
How to order
Order your medication in a few clicks. Our process is easy, fast and secure.
Step 1
Quick Health Check
Fill out a questionnaire so our prescriber can assess if the treatment is suitable for you.
Step 2
Select a Treatment
Choose the medication you require from the range offered by our online pharmacy.
Step 3
Next Delivery
Add delivery details and complete payment process.
What do our customers say?
Jane C
January 29, 2022
Fabulous service, quick and assertive, nice to be able to have an alternative service whilst the nhs are struggling!
Kristin W
January 2, 2022
Happy with how quick they reply to me and the
Delivery was quick as well would definitely use them again in the future.
Robert F
December 9, 2021
Glad to have you there. Efficient, professional service. The next day delivery is always delivered on time as promised.
Medical News and Blogs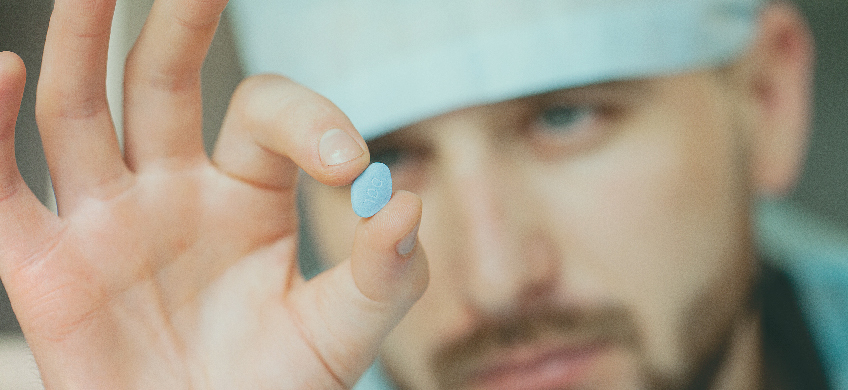 How The Little Blue Pill Revolutionized Relationships
It all began in 1998 when one of the greatest modern medical marvels was approved for sale in the world. Viagra, also affectionately called 'The Little Blue Pill', was originally meant....
Read