Estimated Delivery
Expected delivery date:
Tuesday, 10 May 2022
If you order within:
12h 36m 20s
*Your cart must meet the minimum requiretments for next day delivery
Fast
Delivery
Quick
Assessment
UK Registered
Pharmacy
Discreet &
Confidential
Overview
FAQ
Side Effects
Information leaflet
Reviews
What is Corsodyl Dental Gel
The chlorhexidine digluconate is the active ingredient of Corsodyl Dental Gel. This chemical substance works rapidly as 30 seconds to destroy the plaque-causing bacteria.
How effective Is Corsodyl Dental Gel?
Corsodyl Dental Gel is a useful product for reducing plaque build-up and the occurrence of gum disease in the mouth. According to Science Direct, a credible online journal, various controlled clinical trials have shown that chlorhexidine digluconate (the active ingredient in Corsodyl Dental Gel) decreases the occurrence of plaque by 50% to 60%. The likelihood of gingivitis is reduced by 30% to 45% with the use of this product. It was shown to reduce the number of bacteria in the oral cavity.
Can I buy Corsodyl Dental Gel online?
The dentist usually prescribes Corsodyl Dental Gel. You can buy it online from a trusted pharmacy. Feel at ease to book an appointment with a health expert at Click Pharmacy to discuss how to best use this product. It is packaged in a tube with a 50g content of the medication. If you buy in bulk, your package with be directly sent to you for free by Next Day Delivery.
How should I use Corsodyl Dental Gel?
Use the gel precisely according to the directions on the package label or how your dentist has instructed you. Do not use more or lesser of the gel, or for a longer duration than recommended.
To use this product for the treatment of gum disease, squeeze on about 2cm of the gel on a partly-wet toothbrush. Brush your teeth for a minimum of 1 minute 1 or 2 times a day. After doing this, spit the gel out of your mouth. Do not rinse the gel after this procedure.
To treat oral thrush or mouth ulcers, directly apply the gel over the affected area in the mouth. Do this procedure once or twice a day. Use a cotton bud or a clean finger to spread the gel over to the affected area.
To relieve denture irritation, brush the dentures with the gel. Squeeze on 2.5cm of the product over a moistened toothbrush. Apply on the dentures (by brushing) 1 or 2 times a day.
Ask your dentist about the use of Corsodyl Dental Gel for other purposes.
Check the expiry date on the package. Refrain from using if it has lapsed.
Store the product in a cool, dry place.
You can use other medications with the gel. This product is not known to affect other medicines.
This product is safe for use only for children 12 years and above and adults.
Ask your dentist or doctor if you intend to use this medication to children below 12 years old.
How does Corsodyl Dental Gel work?
The active ingredient in the product- chlorhexidine digluconate- is an antiseptic and disinfectant agent. It is an active substance that works against bacteria, fungi, bacteria and bacterial spores. This chemical component of the gel destroys microorganisms that cause the occurrence of different mouth and throat infections as well as other common mouth conditions. The gel is also useful in preventing plaque formation on the teeth, consequently warding off gum inflammation (gingivitis) and tooth decay. Use the product as directed in the label, or by your dentist.
How long do I use Corsodyl Dental Gel for before I notice a difference?
Corsodyl Dental Gel can be used as a part of a regimen to prevent tooth decay. Apply the product for 5 minutes at night time for 14 days. Use a close-fitting tray for this process. Repeat this treatment every 3 to 4 months or according to your dentist's directions. The length of treatment using the gel may depend on the degree of the condition and the patient's responsiveness to the product.
What are the side effects of Corsodyl Dental Gel?
Medicines may have side effects that tend to affect different people in varied ways. Corsodyl Dental Gel may have possible side effects, but not all users of this product may experience them. They are the following:
Temporary disturbance in taste
Dry mouth
A feeling of numbness, tingling or burning in the mouth
Transitory staining of the tongue which stops after you discontinue using the gel
A brownish discolouration of the teeth, but this can be avoided by brushing the teeth with regular toothpaste or conventional denture cleaner for dentures. You can also prevent staining by refraining from drinking coffee, tea or red wine, particularly 1 hour after applying the gel.
Peeling within the mouth
Inflammation of the salivary glands
Please speak to your doctor or consult our specialists at Click Pharmacy should you require any further advice.
When shouldn't I use Corsodyl Dental Gel?
Do not begin this treatment if you are allergic to any of the ingredients contained in the product, or if you are below 12 years old. The gel may be incompatible with some ingredients found in regular toothpaste. It would be best if you thus rinsed your mouth after using conventional toothpaste. Wait for 5 minutes before applying the gel.
What is the difference between Corsodyl Dental Gel and Daktarin Oral Gel/ Orajel Mouth Sore Gel?
Daktarin Oral Gel is used for the treatment of mouth, throat, gullet and stomach infections. Its active ingredient is miconazole that destroys fungi and yeast.
Secondly, Orajel Mouth Sore Gel is an oral pain reliever that contains the active ingredient benzocaine, which is a local anaesthetic.
What is Corsodyl Dental Gel used for?
Corsodyl Dental Gel is used to reduce the build up of plaque which can possibly result in gum disease.
What is the active ingredient in Corsodyl Dental Gel?
The active ingredient in Corsodyl Dental Gel is chlorhexidine digluconate. This ingredient is able to work as quickly as 30 seconds to destroy any bacteria which may cause plaque.
Do I need a prescription to buy Corsodyl Dental Gel?
No, you do not require a prescription to purchase Corsodyl Dental Gel.
How should I use Corsodyl Dental Gel?
For the treatment of gum disease you should apply a pea sized amount of Corsodyl Dental Gel onto a toothbrush and brush your teeth for 1-2 minutes. You should not spit out any excess gel, do not rinse with water.
If you are using Corsodyl Dental Gel to treat any ulcers in the mouth you should use a clean finger tip to apply a thin even layer to the infected areas.
Can children use Corsodyl Dental Gel?
Corsodyl Dental Gel is not suitable for children under the age of 12 years old.
How should I store Corsodyl Dental Gel?
You should store Corsodyl Dental Gel in a cool dry place, out of reach from children and at room temperature.
How long is the shelf life of Corsodyl Dental Gel?
The shelf life for Corsodyl Dental Gel usually varies, however for most it is around 3 years.
How long can I use Corsodyl Dental Gel after opening it?
After opening Corsodyl Dental Gel you should not use the product for any longer than one month. However an unopened tube can last as long as three years.
Can I swallow Corsodyl Dental Gel?
You should not swallow Corsodyl Dental Gel. However if you do swallow this gel you should seek medical advice as soon as possible as this gel is formulated for external use only.
How often should I use Corsodyl Dental Gel?
You should apply the gel every night for 5 minutes for a duration of 14 days. This treatment should be repeated every 3-4 months to maintain maximum effectiveness.
Can pregnant or breastfeeding women use Corsodyl Dental Gel?
Yes, it is safe for pregnant and breastfeeding women to use Corsodyl Dental Gel as it does not cause any problems to the health of the baby.
Does using Corsodyl Dental Gel affect my fertility?
There is no evidence to suggest that using Corsodyl Dental Gel affects one's fertility.
Does using Corsodyl Dental Gel affect my ability to drive or operate machinery?
No, using Corsodyl Dental Gel does not affect one's ability to drive or affect machinery. It is completely safe to drive or operate machinery while using Corsodyl Dental Gel.
There are a number of possible side effects one can experience from using Corsodyl Dental gel, however not everyone may experience the same symptoms. Common side effects include:
Burning in the mouth
Dry mouth
Temporary stain on gel
Temporary brown stain on teeth
Swelling on salivary glands
Temporary change in taste
Peeling around infected areas
If after using Corsodyl Dental Gel you experience irritation, soreness or difficulty breathing you should stop using the gel and speak to a dentist, GP or pharmacist who may recommend you to use an alternative product.
Always read the patient information leaflet before starting your treatment. The patient information can be found here.
Authored by Jana Abelovska
Last reviewed 20 April 2021
How to order
Order your medication in a few clicks. Our process is easy, fast and secure.
Step 1
Quick Health Check
Fill out a questionnaire so our prescriber can assess if the treatment is suitable for you.
Step 2
Select a Treatment
Choose the medication you require from the range offered by our online pharmacy.
Step 3
Next Delivery
Add delivery details and complete payment process.
What do our customers say?
Jane C
January 29, 2022
Fabulous service, quick and assertive, nice to be able to have an alternative service whilst the nhs are struggling!
Kristin W
January 2, 2022
Happy with how quick they reply to me and the
Delivery was quick as well would definitely use them again in the future.
Robert F
December 9, 2021
Glad to have you there. Efficient, professional service. The next day delivery is always delivered on time as promised.
Medical News and Blogs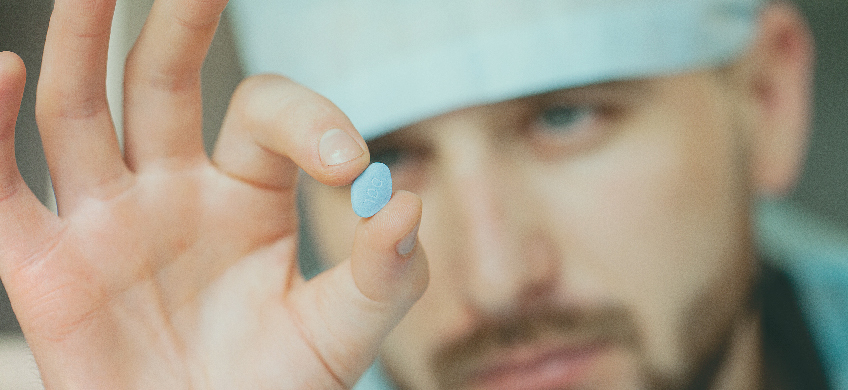 How The Little Blue Pill Revolutionized Relationships
It all began in 1998 when one of the greatest modern medical marvels was approved for sale in the world. Viagra, also affectionately called 'The Little Blue Pill', was originally meant....
Read