-20%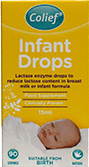 Estimated Delivery
Expected delivery date:
Tuesday, 24 May 2022
If you order within:
12h 36m 20s
*Your cart must meet the minimum requiretments for next day delivery
Fast
Delivery
Quick
Assessment
UK Registered
Pharmacy
Discreet &
Confidential
Overview
FAQ
Side Effects
Information leaflet
Reviews
What is Colief Infant Drops
The active ingredient - lactase enzyme contained in Colief Infant Drops is a naturally occurring enzyme in the body. Lactase helps to break downl lactose in the breast milk.
Can I buy Colief Infant Drops online?
Colief Infant Drops can be purchased over the counter or online without a prescription. You can also book an appointment with a health expert at Click pharmacy so you can learn more information about how to best use this product. If you buy in bulk, your package will be sent to your doorstep for free by next day delivery.
What dose should I choose?
Colief Infant Drops is available in 7ml and 15ml vials. The right dose depends on the frequency of your baby's colic attacks. Bare in mind you need to use this product within six weeks after opening (even if you keep it refrigerated). Each dose consists of 4 drops equivalent to 80mg of lactase enzyme. The 7ml vial contains 42 doses, while the 15ml vial contains 90 doses. Colief Infant Drops are safe for use for babies from birth onwards.
How does Colief Infant Drops work?
The active ingredient found in Colief Infant Drops- lactase enzyme- works to relieve the symptoms of colic due to temporary lactose intolerance. Infants generally have immature digestive systems that make it difficult for them to break down lactose into more simple sugars. This condition results to colic, which is characterized by long periods of crying. Colief Infant Drops helps to remedy this condition by promoting the disintegration of complex sugar lactose contained in milk, consequently allowing its enhanced absorption into the digestive system.
How effective is Colief Infant Drops?
Lactase contained in this product helps to dissolve the complex lactose found in breast milk and infant formulas. Because the digestive system of babies is yet immature, they have difficulty breaking down lactose. They are then affected by indigestion that is a predominant symptom of colic. This is when Colief Infant Drops can be administered to relieve your baby's discomfort.
How should I give Colief Infant Drops to my baby?
Prepare your baby's formula as directed by the manufacturer. Make sure that the formula is warm, not hot, then add 4 drops of Colief Infant Drops. Wait for about 30 minutes before feeding the formula to your baby. Shake the bottle occasionally.
When the milk is now at feeding temperature, give it to your baby as you usually do. Dispose of any unused milk.
If you need to administer the product when you're breastfeeding, do so before you feed your baby. Express a few tablespoons of your breastmilk in a clean and sterilized container. Add 4 drops of Colief Infant Drops into the milk. Using a sterilized spoon, feed the mixture to your little one. Then proceed on to breastfeeding him or her right away.
Do not give the dops directly to your baby. It has to be mixed into baby's milk to administer the product correctly.
The maximum amount of drops that you can give is 64 drops a day, or 16 servings. For best results, mix the drops into room-temperature milk- not too hot or too cold.
Colief Infant Drops should be stored in a cool, dry place. Note the expiry date, and dispose of it if it has passed.
Please keep the product refrigerated after opening, and use it within 6 weeks. Like all medications, it should be kept out of sight and reach of children.
If your baby becomes irritated after ingesting Colief Infant Drops, stop using it. Notify your doctor or pharmacist at the soonest time if you have any concerns about your baby's health.
How long does my baby take Colief Infant Drops for before I notice a difference?
Substances such as lactase enzyme and Colief Infant Drops, in general, take a few days to work. These products have a cumulative effect. You can use this product for every feeding of your infant until they are 3 to 4 months old. It is during such period when the signs of colic tend to have disappeared.
What are the side effects ff Colief Infant Drops?
The active ingredient lactase enzyme (found in Colief Infant Drops) is a substance produced naturally by the body. There are, therefore no known side effects of using this product.
However, if particular or unknown side effects happen to affect your baby, call your doctor right away. Do the same if your infant experiences allergic reactions as well. Symptoms of allergy are swelling, fever, itching, skin rash, hives, runny nose, wheezing and shortness of breath.
If you have given more than the recommended dosage of the product (16 servings within 24 hours), notify your doctor, too. Administer the infant drops according to the directions in the product label, and ask your doctor or pharmacist if you need further information.
Please speak to your doctor or consult our specialists at Click Pharmacy should you require any further advice.
When shouldn't I give Colief Infant Drops?
Do not begin this treatment if your baby has an allergy to any of the product's ingredients. Use this product with your baby's feeding milk. It is not to be ingested directly by your infant. Do not administer more than 64 drops or 16 servings of Colief Infant Drops within 24 hours. If your infant starts to experience irritation after taking the product, stop giving it to them and call your doctor immediately.
What is the difference between Colief Infant Drops and Dentinox Infant Colic Drops/Infacol
The active ingredient in Dentinox Infant Colic Drops is activated dimethicone. It is not absorbed into the bloodstream, and this product is directly administered for ingestion.
Secondly, the active ingredient of Infacol is simethicone. It can only be given to your baby for a maximum of 12 doses a day and is not absorbed by the body.
What are Colief Infant Drops used for?
Colief Infant Drops are used to breakdown the lactose in a baby's milk to make the milk more easily digestible
What is the active ingredient in Colief Infant Drops?
The active ingredient in Colief Infant Drops is lactase enzyme. This active ingredient makes it easier to break down lactose, resulting in an easy digestion for babies.
How do Colief Infant Drops work?
A baby's digestive system is often immature, meaning it struggles to break down lactose from milk into more simpler sugars. Using Colief Infant Drops allows the digestive system to easily break down lactose, preventing the baby from any discomfort.
How long can I use Colief Infant Drops for?
You should not use Colief Infant Drops any longer than 6 weeks after opening.
How should I give my baby Colief Infant Drops if I use formula milk?
If you use formula milk you should add 4 drops to warm formula and let it sit for 30 minutes before giving it to your baby to drink.
How should I give my baby Colief Infant Drops if I breastfeed?
If you breastfeed you should transfer some breast milk to a clean sterilized container, add 4 drops of Colief Infant Drops and mix with a sterilized spoon. Alternatively you can transfer this breastmilk solution to a milk bottle to make it easier for your baby to swallow.
How many times a day can I give my baby Colief Infant Drops?
You should not exceed 16 servings in one day, meaning your baby should not have any more than 64 drops (4 drops 16 times) in a day.
How should I store Colief Infant Drops?
You should refrigerate Colief Infant Drops in a clean dry shelf, out of reach from children. Colief Infant Drops should not be stored for any longer than 6 weeks after opening.
Can I directly give my baby Colief Infant Drops?
No, you can not directly give Colief Infant Drops to a baby as this may be harmful to their immature digestive system. You should always mix Colief Infant Drops into milk and shake regularly to ensure the drops have well combined.
When should I not give Colief Infant Drops to my baby?
You should not give Colief Infant Drops to your baby if he or she has an allergy to any of the ingredients, including the active ingredient.
What is the difference between Colief Infant Drops and Infacol Colic Relief Drops?
The main difference between the two drugs is the way they are consumed. Colief Infant Drops are combined with milk, whereas Infacol Colic Relief Drops are directly administered to the baby.
What if I accidentally give my baby too much of Colief Infant Drops?
If you give your baby a significant overdose of Colief Infant Drops you should seek medical assistance immediately as this could seriously impact your baby's health.
The active ingredient in Colief Infant Drops, lactose, is a naturally producing substance in the body, meaning you can not experience any side effects from using Colief Infant Drops.
Always read the patient information leaflet before starting your treatment. The patient information can be found here.
Authored by Jana Abelovska
Last reviewed 20 April 2021
How to order
Order your medication in a few clicks. Our process is easy, fast and secure.
Step 1
Quick Health Check
Fill out a questionnaire so our prescriber can assess if the treatment is suitable for you.
Step 2
Select a Treatment
Choose the medication you require from the range offered by our online pharmacy.
Step 3
Next Delivery
Add delivery details and complete payment process.
What do our customers say?
Jane Cooper
January 29, 2022
Fabulous service, quick and assertive, nice to be able to have an alternative service whilst the nhs are struggling!
Kristin Watson
January 2, 2022
Happy with how quick they reply to me and the
Delivery was quick as well would definitely use them again in the future.
Robert Fox
December 9, 2021
Glad to have you there. Efficient, professional service. The next day delivery is always delivered on time as promised.
Medical News and Blogs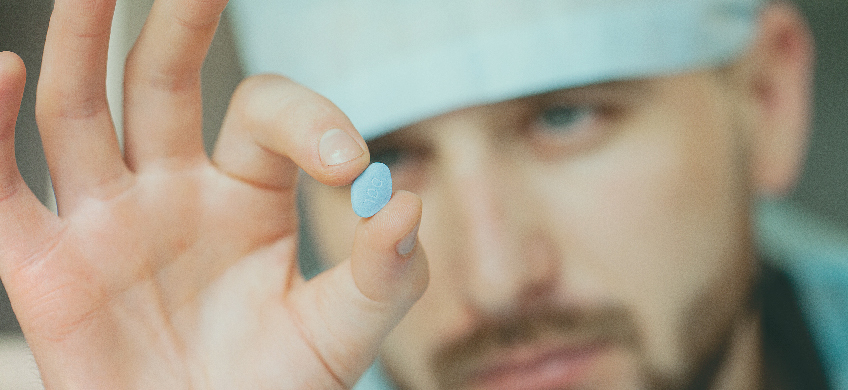 How The Little Blue Pill Revolutionized Relationships
It all began in 1998 when one of the greatest modern medical marvels was approved for sale in the world. Viagra, also affectionately called 'The Little Blue Pill', was originally meant....
Read