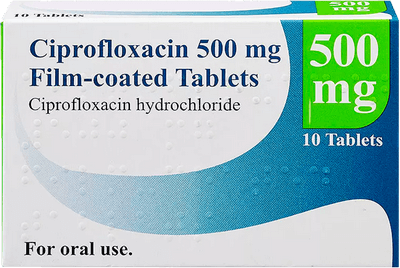 Estimated Delivery
Expected delivery date:
Tuesday, 24 May 2022
If you order within:
12h 36m 20s
*Your cart must meet the minimum requiretments for next day delivery
Fast
Delivery
Quick
Assessment
UK Registered
Pharmacy
Discreet &
Confidential
Overview
FAQ
Side Effects
Information leaflet
Reviews
What is Ciprofloxacin Tablets
Ciprofloxacin is use to deal with bacterial infections and could be very helpful in traveler's diarrhea. Traveler's diarrhea can be contracted by ingesting a bacteria, virus or parasite and can cause abruptly.
What are the side effects of Ciprofloxacin?
Not everyone will suffer from side effects whilst taking Ciprofloxacin though allergic reactions can occur as with any medication. If you suffer from any of these more severe reactions, seek medical help and stop taking the medication right away:
muscle pain
burning, tingling or numbness in the extremities
fever or a deterioration of your condition
issues with breathing
mental disturbances such as hallucinations or psychotic reactions.
diarrhoea containing blood or mucus
decreased urination
Most commonly, 1 in 10 people may suffer from nausea or joint pain, especially in children and 1 in 100 people may experience a wider number of symptoms which can include but are not limited to hyperactivity, headaches, issues with sleeping, vomiting, hives and indigestion.
Before you travel, it is wise to book a free and confidential appointment with a Click Pharmacy doctor to discuss any concerns about possible side effects or worries you may have about the risks involved with your travel and how you can best prepare in advance.
Why choose Ciprofloxacin?
Ciprofloxacin is commonly prescribed and recommended by doctors to treat a wide variety of bacterial infections. As such, there is a lot of research and information on this particular medication to demonstrate that it is effective as a form of treatment, making it a popular option.
Other reasons to choose Ciprofloxacin are due to it being beneficial for a patient with a low white blood cell count or for those who are suffering from a fever brought about by a bacterial infection. It can also be taken with or without food making it a good option for anyone suffering from travellers diarrhoea where you may not be able to eat much food for a few days whilst the infection is active.
How effective is Ciprofloxacin?
As a broad-spectrum antibiotic, it can effectively fight a wide variety of bacteria including those found in certain high risk areas of the world where travellers diarrhoea can be picked up easily. It does this by blocking the enzymes which the bacteria rely on for survival. Studies have shown that it is highly effective against certain gastrointestinal infections such as salmonella, though in some areas of the world, the bacteria has grown a resistance to it which means it is no longer effective in specific countries. In this instance, you will be recommended another type of antibiotic and you can discuss this with your GP or Click Pharmacy doctor before going ahead and purchasing a prescription prior to travel to ensure that you are taking the right medication for your trip.
Can I buy Ciprofloxacin Online?
You can purchase a course of Ciprofloxacin online via Click Pharmacy after completing and submitting a short self assessment. The answers from your questionnaire will enable the doctors to assess whether this is the correct treatment for you based on a number of factors including where you are travelling too, any other medication you may already be taking as well as other medical issues you already suffer with.
How does Ciprofloxacin work?
Ciprofloxacin works by blocking an enzyme in the body known as DNA-gyrase which the bacteria causing the illness feeds upon. It works by replicating and repairing the bacteria's DNA, therefore by stopping this enzyme the bacteria is killed and the infection clears.
How should I take Ciprofloxacin?
It's crucial you follow the directions which come with your prescription, or take it as recommended by your GP or Click Pharmacy doctor. The prescription must be continued to completion, even if you feel you are better.
This medication can be taken with or without food but should always be swallowed alongside plenty of water to stop crystals forming in your urine. It must not be taken with dairy products such as milk or yoghurt as it can interact with the drug making it less effective. Ciprofloxacin must be taken as a whole tablet at the same time each day and the tablet must not be chewed, broken or crushed.
How long do I take Ciprofloxacin for?
The dosage you are given will be dependant on the severity of your particular bacterial infection or, if you are getting a prescription to take with you in case of catching an infection, it will be based on where in the world you will be travelling.
Generally speaking, for travellers diarrhoea you would be recommended 500 mg every 12 hours for anywhere between five and seven days, or as suggested by your GP or Click Pharmacy doctor prior to travel. This may change depending on how high risk the area you are travelling in has been classed.
What is contained in Ciprofloxacin?
The active ingredient which you receive with each dose is called Ciprofloxacin Hydrochloride.
The inactive ingredients in each tablet are:
croscarmellose sodium
microcrystalline cellulose
povidone
magnesium stearate.
The coating of the tablet contains:
hypromellose
lactose monohydrate
macrogol 4000
sodium citrate
the colouring agent titanium dioxide (E171).
Can I take Ciprofloxacin whilst breastfeeding?
Taking medication is generally not recommended whilst breastfeeding unless absolutely necessary, but studies have shown that the amount of this drug excreted into the milk is extremely low. The dose of Ciprofloxacin in the milk is at its highest point after around 2 hours and especially minimal after 3 to 4 hours. As such, if you do require this drug whilst breastfeeding then it is best that the mother avoids breastfeeding until after this amount of time has passed from taking the last dose.
If you do take Ciprofloxacin whilst breastfeeding, it is recommended that you monitor the infant for possible side effects which may include diarrhoea, thrush or nappy rash.
You should discuss taking this medication with your doctor if you are pregnant or breastfeeding prior to purchasing it to put your mind at rest.
What are Ciprofloxacin Tablets used for?
Ciprofloxacin Tablets are used to treat bacterial infections which can result in travelers diarrhoea.
What is the active ingredient in Ciprofloxacin Tablets?
The active ingredient in Ciprofloxacin Tablets is Ciprofloxacin Hydrochloride. This ingredient is effective at treating bacterial infections.
How do Ciprofloxacin Tablets work?
The active ingredients in Ciprofloxacin Tablets work by blocking the enzyme in the body (DNA gyrase) which the bacteria feeds upon. This stops the bacteria from replicating and growing, therefore treating the infection.
Can pregnant or breastfeeding women take Ciprofloxacin Tablets?
Pregnant and breastfeeding women are usually advised to not take Ciprofloxacin Tablets. You should consult with a GP or pharmacist who may be able to advise you to use an alternative such as ciprofloxacin eye drops or ointment.
How should I take Ciprofloxacin Tablets?
You should swallow the whole tablet with plenty of water to prevent the formation of crystals in your urine. You should not consume any dairy products while taking Ciprofloxacin Tablets as they may interfere and make the drug less effective.
How often should I take Ciprofloxacin Tablets?
It is recommended to take one 500mg tablet every 12 hours for 5-7 days if you have travelers diarrhoea.
Do I need a prescription to buy Ciprofloxacin Tablets?
Yes, you require a prescription to purchase Ciprofloxacin Tablets.
What is the difference between Ciprofloxacin Tablets and Ciproxin?
While they are effectively used for the same purpose, the main difference is branding and price. Ciproxin is the branded version of Ciprofloxacin making it cost more than Ciprofloxacin Tablets.
Can children take Ciprofloxacin Tablets?
Ciprofloxacin Tablets are not suitable for children under the age of 1 year old.
What if I forget to take my dose of Ciprofloxacin Tablets?
If you forget to take your dose of Ciprofloxacin Tablets you should take it as soon as you remember unless it is almost time for your next dose. If it is almost time for your next dose you should skip the previous dose and continue as normal. You should never take two doses at once, even if you are making up for a mixed one.
Can I crush or chew Ciprofloxacin Tablets?
No, you should not crush or chew Ciprofloxacin Tablets, you should swallow the tablet on a whole.
Does using Ciprofloxacin Tablets affect my fertility?
There is no evidence to suggest that using Ciprofloxacin Tablets affects one's fertility. However it is advised to speak to a GP or pharmacist if you are trying to or planning on getting pregnant.
Can I drink alcohol while taking Ciprofloxacin Tablets?
Yes, it is safe to drink alcohol while taking Ciprofloxacin Tablets.
Although most people do not experience serious side effects, common side effects and how to treat them include:
Nausea: refrain from eating rich spicy food meals, try to eat light meals with lots of fruits and vegetables. Take these tablets after a well balanced meal, this reduces the chances of nausea.
Diarrhoea: drink lots of fluids such as fruit juices and squash to avoid dehydration which usually is the primary cause of diarrhoea.
Bad taste in mouth: this taste should not last long. Drinking plenty of fluids can get rid of any taste.
Always read the patient information leaflet before starting your treatment. The patient information can be found here.
Authored by Jana Abelovska
Last reviewed 20 April 2021
How to order
Order your medication in a few clicks. Our process is easy, fast and secure.
Step 1
Quick Health Check
Fill out a questionnaire so our prescriber can assess if the treatment is suitable for you.
Step 2
Select a Treatment
Choose the medication you require from the range offered by our online pharmacy.
Step 3
Next Delivery
Add delivery details and complete payment process.
What do our customers say?
Jane Cooper
January 29, 2022
Fabulous service, quick and assertive, nice to be able to have an alternative service whilst the nhs are struggling!
Kristin Watson
January 2, 2022
Happy with how quick they reply to me and the
Delivery was quick as well would definitely use them again in the future.
Robert Fox
December 9, 2021
Glad to have you there. Efficient, professional service. The next day delivery is always delivered on time as promised.
Medical News and Blogs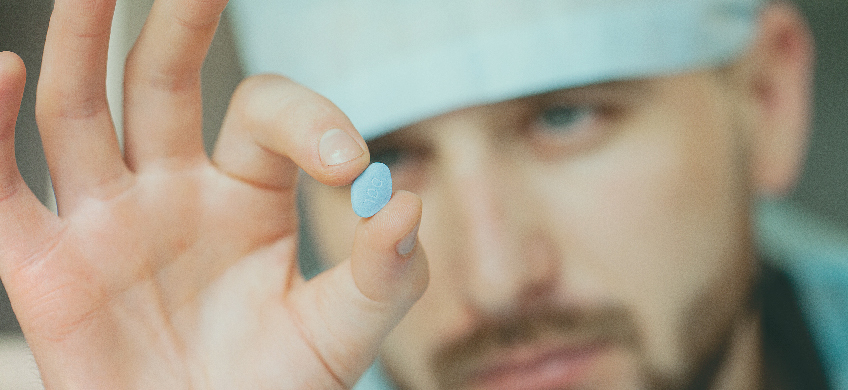 How The Little Blue Pill Revolutionized Relationships
It all began in 1998 when one of the greatest modern medical marvels was approved for sale in the world. Viagra, also affectionately called 'The Little Blue Pill', was originally meant....
Read