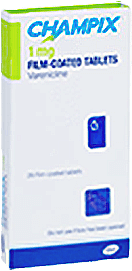 Estimated Delivery
Expected delivery date:
Tuesday, 10 May 2022
If you order within:
12h 36m 20s
*Your cart must meet the minimum requiretments for next day delivery
Fast
Delivery
Quick
Assessment
UK Registered
Pharmacy
Discreet &
Confidential
Overview
FAQ
Side Effects
Information leaflet
Reviews
What is Champix Maintenance Pack
Champix is a nicotine-free stop smoking treatment made from plant extracts. The active ingredient within it is varenicline and this works by making smoking less pleasurable. It also helps to relieve withdrawal symptoms and cravings.
Why choose Champix Continuation Pack?
Champix can significantly increase your chances of giving up smoking. Research suggests that people who take this treatment are over three times more likely to be successful than individuals who attempt to quit without assistance. This medication can also make the process of giving up cigarettes less stressful. If you succeed in quitting the habit, you can experience a wide range of health benefits.
What dose should I choose?
If you complete an online consultation on our website, our medical professionals will be able to recommend the most suitable dosage for you. Detailed instructions are also provided with the treatment and you can ask your doctor for further guidance.
How should I take Champix Continuation Pack?
Treatment courses for Champix generally last for three months (12 weeks) and after finishing an initiation pack, you can move to a continuation pack. Carrying on with treatment in this way can reduce the risk that you will start smoking again. Bear in mind that while taking these tablets, you may still feel an urge to smoke. This means you will need to make an effort to stay away from cigarettes. However, if you do find that your will power fails and you have a 'slip', smoking should feel less pleasurable.
How does Champix Continuation Pack work?
Champix prevents nicotine from binding to the receptors in your brain that provide a pleasurable response when you smoke. This makes nicotine less rewarding. The medicine also stimulates these brain receptors in a similar way to nicotine, helping to reduce your cravings and limiting the irritability and bad moods you may get when you quit smoking.
What are the side effects of Champix Continuation Pack?
As with most medicines, there are a number of potential side effects to be aware of if you start taking this treatment. The most common include nausea, headaches, changes in dreams, problems sleeping, tiredness, an increased appetite, altered taste sensation and dizziness. In rare cases, more serious side effects may be experienced, including changes in behaviour and hallucinations. To find out more about these issues, don't hesitate to get in touch with our experts. We are on hand to give you any extra information and advice that you may require.
What are Champix Tablets Maintenance Pack used for?
Champix Tablets are a nicotine free treatment to help make quitting smoking easier. It is formulated by natural plant extracts which help to withdraw any cravings and symptoms.
What is the active ingredient in Champix Tablets Maintenance Pack?
The active ingredient in Champix Tablets is varenicline. This ingredient is effective at withdrawing any pleasures and cravings.
How long should I use Champix Tablets Maintenance Pack for?
After having successfully completed the Champix Initiation Pack you move onto the maintenance pack. You are usually required to take these maintenance tablets for about 12 week (3 months) in order to fully withdraw from any cravings.
Is it compulsory to complete a maintenance pack after completing an initiation pack?
In order to reduce the risk of one beginning to smoke again, it is recommended to complete the maintenance pack course. Taking the maintenance pack will ensure the urge to smoke does not feel pleasurable, therefore reducing the chances of one feeling the pleasure to smoke.
How does the Champix Tablets Maintenance Pack work?
The Champix Tablets Maintenance Pack prevents nicotine from binding to the receptors in your brain that provide a pleasurable response to the act of smoking. It also stimulates the receptors to help reduce nicotine cravings.
Will using Champix Tablets Maintenance Pack put me in a bad mood if I quit smoking?
The ingredients in Champix Tablets Maintenance Pack are formulated in a way to prevent the receptors in the brain from getting into a bad mood while quitting smoking. This is because the receptors are stimulated to no longer find the act of smoking pleasurable, reducing the cravings and preventing bad moods.
How long does it take to notice a difference?
After 9 days of taking Champix Tablets you will notice you crave fewer cigarettes each day.
Can children use Champix Tablets Maintenance Pack?
Champix Tablets Maintenance Pack is not suitable for anyone under the age of 18 years old.
How should I take Champix Tablets?
You should swallow one tablet with a glass of water. Champix Tablets can be taken with or without food, however to reduce the chances of feeling nauseous it is advised to take these tablets after a meal.
What if I forget to take my dose of Champix Tablets Maintenance Pack?
If you forget to take your dose of Champix Tablets you should take them as soon as you remember unless there is less than 3 hours till it is time for your next dose. You should never take two doses at once, even if you are making up for the forgotten dose.
Can I drink alcohol while taking Champix Tablets Maintenance Pack?
Yes, it is safe to drink alcohol while taking Champix Tablets. However it is advised to decrease your intake of alcohol as studies suggest taking Champix increases the side effects of consuming alcohol.
Will taking Champix Tablets Maintenance Pack affect my fertility?
There is no evidence to suggest that taking Champix Tablets affects one's fertility in any way.
While using Champix Tablets you may experience a few side effects, however these are often mild and disappear within a few days. Common side effects and how to cope with them include:
Sore nose or throat: it is advised to take an anti-inflammatory drug such as ibuprofen.
Nausea: take Champix Tablets after a healthy meal and avoid consuming rich spicy meals.
Headaches: avoid drinking alcohol, ensure you are drinking plenty of water to remain hydrated.
Always read the patient information leaflet before starting your treatment. The patient information can be found here.
Authored by Jana Abelovska
Last reviewed 20 April 2021
How to order
Order your medication in a few clicks. Our process is easy, fast and secure.
Step 1
Quick Health Check
Fill out a questionnaire so our prescriber can assess if the treatment is suitable for you.
Step 2
Select a Treatment
Choose the medication you require from the range offered by our online pharmacy.
Step 3
Next Delivery
Add delivery details and complete payment process.
What do our customers say?
Jane C
January 29, 2022
Fabulous service, quick and assertive, nice to be able to have an alternative service whilst the nhs are struggling!
Kristin W
January 2, 2022
Happy with how quick they reply to me and the
Delivery was quick as well would definitely use them again in the future.
Robert F
December 9, 2021
Glad to have you there. Efficient, professional service. The next day delivery is always delivered on time as promised.
Medical News and Blogs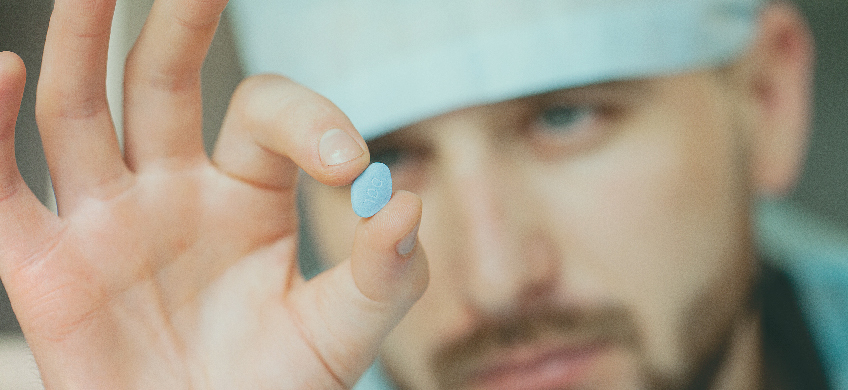 How The Little Blue Pill Revolutionized Relationships
It all began in 1998 when one of the greatest modern medical marvels was approved for sale in the world. Viagra, also affectionately called 'The Little Blue Pill', was originally meant....
Read