Care Potassium Citrate Mixture
Estimated Delivery
Expected delivery date:
Tuesday, 10 May 2022
If you order within:
12h 36m 20s
*Your cart must meet the minimum requiretments for next day delivery
Fast
Delivery
Quick
Assessment
UK Registered
Pharmacy
Discreet &
Confidential
Overview
FAQ
Side Effects
Information leaflet
Reviews
What is Care Potassium Citrate Mixture
The Care Potassium Citrate Mixture is medically used for the treatment of irritation that may be caused by Cystitis and any other mild urinary tract infections. It is a modest treatment that is administered through the mouth.
Cystitis is a bacterial infection, whereby bacteria enters into the urethra, multiplies and travels up to the bladder. As the bacteria accumulate in the bladder, your urine becomes extra acidic, causing irritation in the bladder lining. Affected patients experience high frequency for urination and suffer a burning sensation while urinating.
How Long Do I Take Potassium Citrate Mixture Before I Notice a Difference?
Take Potassium Citrate Mixture as directed by the doctor or pharmacist. Strict adherence to the dosage prescription will see the medicine yielding results within 3 days. After the third day, if you continue experiencing irritations and discomfort as you pass urine or along the urinary tract, get back to your doctor or pharmacist for the proper direction. Keep away from the temptation of taking extra dosage after the third day.
What are the Side Effects of Care Potassium Citrate Mixture?
Individuals taking Care Potassium Citrate Mixture are likely to experience some side effects. Though not a must, whenever they occur, they vary from person to person. Some of the common side effects are;
Stomach upsets
Vomiting
Mild nausea
If these symptoms persist after taking the drugs, do not hesitate to get in touch with your doctor for the correct advice.
How Effective is Care Potassium Citrate?
Potassium Citrate is naturally absorbed by our bodies quickly. Upon absorption, it is neutralised to yield carbonate that is capable of neutralising the extra acidity in the urine. This reduces irritation which eventually minimises the frequency of urination while making it less painful.
This drug is quite beneficial owing to its pharmacological advantages. Its pharmacodynamics properties ensure that Citrate and Citric acid solutions are medically systematic and that urinary alkalinizers thereby provide symptomatic relief of dysuria.
Besides, its pharmacokinetic properties ensure that Potassium Citrate is easily absorbed and the citrate is metabolised into bicarbonate. Citric acid metabolises to form water and carbon dioxide. Oxidation process comes to an end with less than 5% of the entire citrate being eliminated unchanged in the urine.
Can I Buy Care Potassium Citrate Online?
In case you have been advised by a doctor or pharmacist to take care of Potassium Citrate, the good news is that you can get it online. With Click Pharmacy available on your fingertips, all you need is to book an appointment with one of our doctors or pharmacists and the process will be remarkably smooth.
As a universally accepted medical routine, you will be taken through a brief questionnaire to ascertain whether you indeed need this type of medication. Upon passing through the process, your doctor will give the advice accordingly.
You can thereby place the order, and expect the delivery the following working day if you purchase the Next Day Delivery option before 3PM. Always confirm your correct address and location for easier deliveries.
What Dose Should I Choose?
Potassium Citrate Mixture should be taken as per the doctor's advice or prescription. If you didn't get it rightly or somehow forgotten, always check the patient leaflet information. It will furnish you with the right dosage for you. Here are the recommended doses;
Unless otherwise directed by the doctor:
The elderly, adults and children over 10 years should take 10 ml
Going beyond the medically allowable dosage limits can be detrimental to your health. Overdosage of Care Potassium Citrate mixture is likely to be accompanied by nausea, vomiting, abdominal pains and symptoms akin to hyperkalemia and metabolic acidosis.
This is why it is imperative to report to your doctor to monitor your fluid and electrolyte balance closely. Nonetheless, follow-up treatment ought to be supportive and symptomatic.
How Should I Take Potassium Citrate Mixture?
Potassium Citrate Mixture should be taken right after meals. The right quantities of water must be mixed. Once mixed, you take it orally. As you take it after subsequent meals, ensure to store it in environments with temperatures below 25°C. An unopened bottle has a shelf life of 36 months.
It is advisable to always shake the bottle well before use.
How Does Care Potassium Citrate Mixture work?
Care Potassium Citrate mixture makes the use of its active ingredient, potassium citrate to lessen the acidity levels of your urine. The reduced acidity means you experience less irritation while urinating. This provides the much-needed relief for those experiencing Cystitis or any other urinary tract infections.
When Shouldn't I Use Potassium Citrate Mixture?
Like any other drug, Care Potassium Citrate is prescribed with some exclusions. This underscores the justification for the patient's screening through the questionnaire. Here are some of the exemptions to using the Care Potassium Citrate for treatment.
Care Potassium Citrate Mixture is not suitable for children under the age of 1
Care Potassium Citrate Mixture is not recommendable for pregnant or breastfeeding mothers unless your doctor advises otherwise.
Care Potassium Citrate Mixture should not be prescribed alongside other potassium-comprising drugs, potassium-sparing diuretics, or other drugs that bear a high probability of increasing potassium levels (e.g. aliskiren or ciclosporin). This may lead to hyperkalaemia leading to their interaction with cardiac glycosides. Citrates alkalise the urine altering the urinary excretion for other drugs. This may overburden the renal system in the clean-up of acidic drugs, like Salicylates and tetracycline.
If you are allergic to potassium elements or any of the constituent pharmaceutical particulars, then the drug is not advisable
If you have higher levels of potassium in your blood, it is recommendable to steer away from Care Potassium Citrate Mixture
Also, those with kidney or liver complications should avoid the drug
In case you are suffering from Addison's disease avoid taking the medicine
What is the Difference Between Care Potassium Citrate Mixture and Allopurinol/ or Thiazide Diuretics?
The use of Care Potassium Citrate Mixture in the treatment of Cystitis or other urinary infections, is the first line of defence. It is not an anti-bacterial as it only provides symptomatic relief. It should be co-prescribed. For patients suffering from cardiac or renal dysfunction, high caution should be taken when under the type of medication. It should be taken with precaution if it is being given to elderly people. Different individuals under this category react differently to the medicine
Thiazide Diuretics lower the level of calcium in the urine and are used for other medical conditions such as high blood pressure or heart failure.
In terms of its ingredients, Care Potassium Citrate Mixture 200ml per 5ml.
Potassium Citrate BP 1.5g
Citric Acid Monohydrate (E330)
Quillaia Tincture
Lemon Oil Terpeneless
Purified Water
Sucrose: 1.1g
Alcohol 0.9 Vol%
Sodium Benzoate
What is Care Potassium Citrate Mixture used for?
Care Potassium Citrate Mixture is a medicine used for the treatment of urinary tract infections such as cystitis.
Do I need a prescription to purchase Care Potassium Citrate Mixture?
No, you do not require a prescription to purchase Care Potassium Citrate Mixture. However if you are unsure whether this product is right for you, you are welcome to book a free consultation with one of our medicine experts.
Can children use Care Potassium Citrate Mixture?
Care Potassium Citrate Mixture is suitable to be used by adults and children over the age of 1 years old. They must not be used by babies under the age of 12 months old.
What dose of Care Potassium Citrate Mixture should I take?
The recommended dose of Care Potassium Citrate Mixture varies depending on age. The recommended doses are as follows:
Children aged 1 to 6 years old: 5ml three times a day
Adults and children over the age of 6 years old: 10ml three times a day
When should I take Care Potassium Citrate Mixture?
It is generally advised to take Care Potassium Citrate Mixture three times a day, after meals.
Can pregnant or breastfeeding women use Care Potassium Citrate Mixture?
Although it is generally safe for pregnant and breastfeeding women to use Care Potassium Citrate Mixture, it is advised to consult with a doctor, pharmacist or midwife before doing so. This is to ensure the medicine does not cause any harm to both born and unborn babies.
Does using Care Potassium Citrate Mixture affect my ability to drive or operate machinery safely?
There is no evidence to suggest that using Care Potassium Citrate Mixture affects one's ability to participate in activities such as driving or operating machinery safely.
How should I store Care Potassium Citrate Mixture?
Care Potassium Citrate Mixture should be stored in a cool dry place, out of reach from children and at room temperature. This product should not be exposed to extreme temperatures or direct sunlight.
How long is the shelf life of Care Potassium Citrate Mixture?
The shelf life of Care Potassium Citrate Mixture is usually 36 months. However this may vary depending on your purchase.
What if I forget to take my dose of Care Potassium Citrate Mixture?
If you forget to take your dose of Care Potassium Citrate Mixture you should take it as soon as you remember, unless it is almost time for your next dose. If it is almost time for your next dose, you should skip the dose you just missed and continue as normal. You should never take two doses at once, even if you are making up for a missed dose.
Like all medicines, after using Care Potassium Citrate Mixture you are likely to experience side effects. It is important to note that not everyone experiences the same side effects, and side effects are often mild. Common side effects include the following:
Nausea
Vomiting
Diarrhoea
Stomach pain
Dizziness
High potassium levels in the bloodstream
If any of these side effects worsen, you should stop using Care Potassium Citrate Mixture immediately and seek medical advice from a doctor or pharmacist as soon as possible.
Whenever taking Care Potassium Citrate mixture or any other medication, it is essential to go through the patient leaflet information. The leaflet contains all the ingredients and directions of use. The leaflet for this medicine can be found here.
Authored by Jana Abelovska
Last reviewed 20 April 2021
How to order
Order your medication in a few clicks. Our process is easy, fast and secure.
Step 1
Quick Health Check
Fill out a questionnaire so our prescriber can assess if the treatment is suitable for you.
Step 2
Select a Treatment
Choose the medication you require from the range offered by our online pharmacy.
Step 3
Next Delivery
Add delivery details and complete payment process.
What do our customers say?
Jane C
January 29, 2022
Fabulous service, quick and assertive, nice to be able to have an alternative service whilst the nhs are struggling!
Kristin W
January 2, 2022
Happy with how quick they reply to me and the
Delivery was quick as well would definitely use them again in the future.
Robert F
December 9, 2021
Glad to have you there. Efficient, professional service. The next day delivery is always delivered on time as promised.
Medical News and Blogs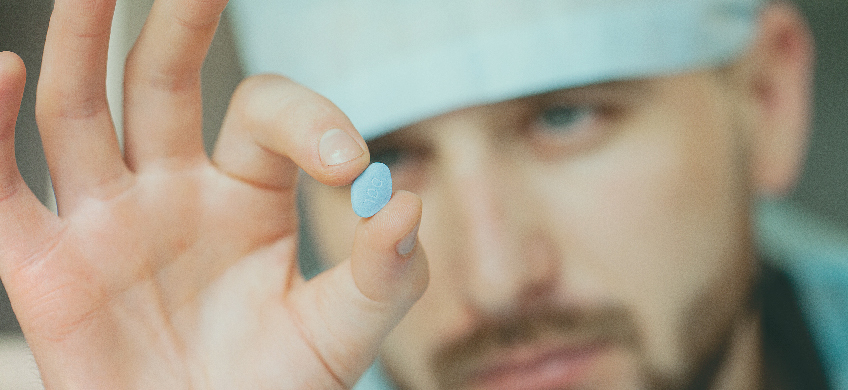 How The Little Blue Pill Revolutionized Relationships
It all began in 1998 when one of the greatest modern medical marvels was approved for sale in the world. Viagra, also affectionately called 'The Little Blue Pill', was originally meant....
Read