-20%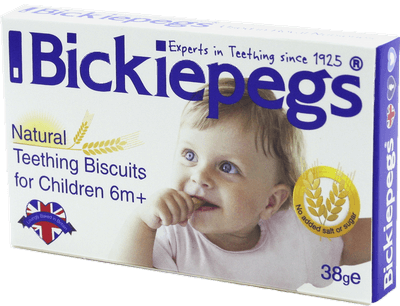 Bickiepegs Teething Biscuits for Babies
Estimated Delivery
Expected delivery date:
Tuesday, 24 May 2022
If you order within:
12h 36m 20s
*Your cart must meet the minimum requiretments for next day delivery
Fast
Delivery
Quick
Assessment
UK Registered
Pharmacy
Discreet &
Confidential
Overview
FAQ
Side Effects
Information leaflet
Reviews
What is Bickiepegs Teething Biscuits for Babies
Bickiepegs Teething Biscuits have been a British favourite for almost a century. They were first made in Scotland in 1925 and have continued to be handmade in the factory ever since. Bickiepegs are designed to help babies with teething. The shape is designed so as to allow the baby to chew the peg using their full range of teeth. While the biscuit is edible, the primary purpose of the peg is to provide something safe and hard to bite on. Bickiepegs are normally used from around 6 months old onwards.
Bickiepegs are 100% natural. There are no preservatives, artificial colourings, flavourings, added sugar, or salt. The main ingredient is Wheat Flour, Wheat Germ, and Water. The pegs are suitable for babies approaching teething age which is usually around 6 months. The pegs are also suitable for vegetarians and vegans.
What dose should I choose?
Bickiepegs come in boxes of 9 pcs weighing 38g. A new Bickiepeg should be given to your child for each session. Do not let your child chew the peg for more than 20 minutes. If the peg becomes soft, dispose of it. Note – although your child may occasionally swallow a piece of Bickiepegs, they are not primarily designed for eating. If the biscuit does begin to break up, dispose of it at once. Do not give your child Bickiepegs all day long. Give a gap several hours between sessions.
How Should I Use Bickiepegs?
Before giving your child a Bickiepeg, check that it has not been damaged in transit. Never give your child a broken, or half-used Bickiepeg.
Thread the ribbon through the hole and tie the Bickiepeg to the child's clothing (not far from the child's mouth). Do not tie it around the neck.
Do not dip a Bickiepeg in any liquid or sweetener. This will help cause the stick to deteriorate quickly and will require disposal.
If your child has trouble holding the Bickiepeg themselves, you may help to hold it for them and allow them to gnaw it. Do not tug too hard while they are biting on it as it may put unnecessary pressure on their teeth.
After 20 minutes end the session and discard it. Do not re-use a Bickiepeg that your child has already enjoyed.
Never leave your child unattended with a Bickiepeg. Closely monitor their use.
Once the package is opened, store remaining Bickiepegs in an airtight container to prevent them from spoiling.
How do Bickiepegs work?
Bickiepegs are designed to fit the shape and size of a teething child's mouth. The shape is specially designed to allow the child to bite using both the front and back teeth at the same time. This improves the development of the chewing skills required for your child to move from liquids to solid food. The Bickiepegs have been baked for hardness. This provides the strong surface required to allow teeth to cut through the gums. It also helps alleviate the pain associated with teething and can lead to strong, straight teeth, with adequate spacing.
How long should my child use Bickiepegs before I notice a difference?
The length of time your child should use Bickiepegs will vary depending on their individual development. A child will typically start teething around 6 months of age. You may continue to use the biscuits until the teeth have appeared and developed. Just make sure your child does not become overly dependent on Bickiepegs for comfort – they are not designed as a general pacifier. Some children take several years to teeth fully. If you become concerned, they have been using Bickiepegs for too long, talk to your a healthcare professional.
What are the side effects of Bickiepegs?
Buckie peg's primary ingredients are Wheat Flour, Wheatgerm, and Water. There is no added sugar, salt, additives, colourings, GM ingredients or dairy products. Bickiepegs are suitable for Vegetarians and Vegans. Bickiepegs contain a similar amount of gluten as wholemeal bread. If you have any concerns about Gluten allergies, talk to your healthcare professional.
The following Nutritional Information per 100g is applicable to Bickiepegs – Energy 1591kJ/376kcal, Fat 2.7g, Saturates 0.5g, Carbohydrates 81.6g, Sugars 3.5g, Protein 2.7g, Salt <0.03g.
When shouldn't I use Bickiepegs?
Bickiepegs are a safe non-prescription food-based product, suitable for teething children. You should not use a Bickiepeg if it has already been used or has gone soft. To prevent them from going soft, store in an airtight box after opening. Avoid letting your child become over dependant and attached to Bickiepegs. They are not designed as long-term pacifiers. If more than one child is teething, do not let them share a Bickiepeg or pass it around.
While Bickiepegs are edible, they are not intended as food. If your child does swallow part of the Bickiepeg, then replace it. Do not allow them to continue eating it like a biscuit. Be careful that your child does not chew or swallow the ribbon that holds the Bickiepeg to the clothes.
What is the difference between Bickiepegs and Ashton & Parsons Infants' Powders?
Bickiepegs are hard dried biscuits that aid with the teething process and the development/shaping of the teeth and jaw action. Your child will actively gnaw the Bickiepegs. If they struggle to keep hold of the stick, you may hold it for them. Bickiepegs contain no active ingredients and achieve their purpose through mechanical action.
Ashton & Parsons Infant' Powders, on the other hand, is a traditional herbal medicine that helps with relief of the teething pain, sore and tender gums, flushed cheeks, and dribbling. In some cases, parents may decide to use both products – Bickiepegs to improve the development of the teeth and jaw, and Infant' Powders to help reduce the pain experienced by the child. Some children do not like the taste of powders. Bickiepegs are more suitable in these situations.
A range of alternative teething biscuits are also available on the market. Some of the common alternatives include "teethers", "baby bio teething biscuits", "little teethers", and "Heinz Teething Rusks". Each has its own features, texture, and taste. Some brands offer edible biscuits too. If you are unsure what is best for your baby, have a chat with your healthcare professional.
How effective are Bickiepegs?
Bickiepegs are a safe and effective way to allow babies to teeth. The shape and strength of the pegs provide the required exercise that allows the jaws, teeth, and muscles to develop properly. Available since 1925, Bickiepegs have been proven to be effective by families for over five generations. Doctors and healthcare professionals have continued to recommend Bickiepegs due to the effects they have witnessed over many years of practice.
Bickiepegs are made by hand using all-natural ingredients and are suitable for vegans and vegetarians. They are also suitable for children with dairy allergies. Gluten is present, so they are not suitable if a gluten allergy exists.
Can I buy Bickiepegs online?
Yes, you can purchase Bickiepegs online at Click Pharmacy quickly and easily. If you have any questions about teething you can contact your health care visitor, or else you may prefer to book an appointment with one of the Click Pharmacy's own doctors who can offer advice and suggestions for your child. If you require a quick delivery, you can choose the Next Day Delivery Service at the check out stage of the process.
What are Bickiepegs Teething Biscuits for Babies used for?
Bickiepegs Teething Biscuits for Babies are biscuits aimed at babies who are teething and experience discomfort. Bickiepegs Teething Biscuits for Babies provide relief from discomfort and pain caused from teething.
Do I need a prescription to purchase Bickiepegs Teething Biscuits for Babies?
No, you do not require a prescription to purchase Bickiepegs Teething Biscuits for Babies for your child.
At what age can I begin giving my child Bickiepegs Teething Biscuits for Babies to help with teething?
Bickiepegs Teething Biscuits for Babies are suitable for babies aged 6 months and above. They are not suitable for and should not be given to children under the age of 6 months old.
Can I give my child Bickiepegs Teething Biscuits for Babies if my child has a wheat allergy?
Bickiepegs Teething Biscuits for Babies contain wheat. This means they are not suitable for children with a wheat allergy.
How should I store Bickiepegs Teething Biscuits for Babies?
You should store Bickiepegs Teething Biscuits for Babies in a cool dry place, out of reach from children, and at room temperature. This product should not be exposed to extreme temperatures or direct sunlight.
Why does teething cause my child discomfort?
Teething happens when teeth begin to cut through the gums, this can be painful and cause discomfort as the gums have not experienced this before.
How do I know if my child is teething?
There are possible ways to identify whether or not your child is teething. Signs of teething include the following:
Your child wanting to chew on things
Your child becomes more fussy
Red gums
Sore gums
Dribbling more than usual
Flushed cheeks
How do Bickiepegs Teething Biscuits for Babies provide relief from discomfort caused by teething?
Bickiepegs Teething Biscuits for Babies provides your child with a hard surface to bite down on. This hard surface provides relief from discomfort, pain and irritation caused by itching.
How should I give my child Bickiepegs Teething Biscuits for Babies?
There are multiple ways to give your child Bickiepegs Teething Biscuits for Babies. You can give it directly to your child. Alternatively you can use the ribbon provided to attach Bickiepegs Teething Biscuits for Babies to your childs clothing. This will ensure the biscuit does not fall off.
How long is the shelf life of Bickiepegs Teething Biscuits for Babies?
The shelf life of Bickiepegs Teething Biscuits for Babies usually varies depending on your purchase. You should check the exterior of the packaging for the appropriate use by instructions.
When should I not give my child Bickiepegs Teething Biscuits for Babies?
You should not give your child Bickiepegs Teething Biscuits for Babies if your child is allergic to any of the listed ingredients.
After having Bickiepegs Teething Biscuits for Babies your child is unlikely to experience any side effects. If your child experiences any of the following:
Swelling of skin
Irritation
Severe discomfort
Difficulty breathing
Red skin
Your child may be experiencing an allergic reaction to Bickiepegs Teething Biscuits for Babies. In this case you should stop giving your child Bickiepegs Teething Biscuits for Babies immediately and seek medical advice from a professional as soon as possible.
As Bickiepegs are classed as a food product rather than a medicine, a patient information leaflet does not exist. For further technical details of the product, please refer to the Product Datasheet here. Further information is presented on the product packaging.
Authored by Jana Abelovska
Last reviewed 20 April 2021
How to order
Order your medication in a few clicks. Our process is easy, fast and secure.
Step 1
Quick Health Check
Fill out a questionnaire so our prescriber can assess if the treatment is suitable for you.
Step 2
Select a Treatment
Choose the medication you require from the range offered by our online pharmacy.
Step 3
Next Delivery
Add delivery details and complete payment process.
What do our customers say?
Jane Cooper
January 29, 2022
Fabulous service, quick and assertive, nice to be able to have an alternative service whilst the nhs are struggling!
Kristin Watson
January 2, 2022
Happy with how quick they reply to me and the
Delivery was quick as well would definitely use them again in the future.
Robert Fox
December 9, 2021
Glad to have you there. Efficient, professional service. The next day delivery is always delivered on time as promised.
Medical News and Blogs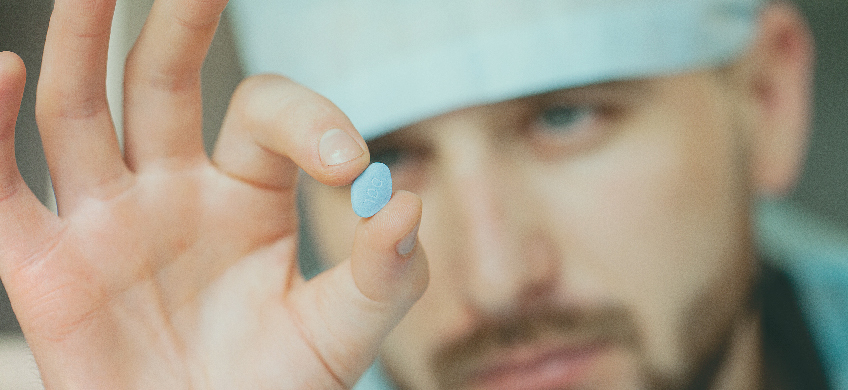 How The Little Blue Pill Revolutionized Relationships
It all began in 1998 when one of the greatest modern medical marvels was approved for sale in the world. Viagra, also affectionately called 'The Little Blue Pill', was originally meant....
Read