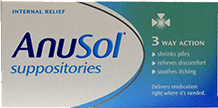 Estimated Delivery
Expected delivery date:
Tuesday, 10 May 2022
If you order within:
12h 36m 20s
*Your cart must meet the minimum requiretments for next day delivery
Fast
Delivery
Quick
Assessment
UK Registered
Pharmacy
Discreet &
Confidential
Overview
FAQ
Side Effects
Information leaflet
Reviews
What is Anusol Suppositories
The effective ingredient in Anusol Suppositories is zinc oxide. Different substances discovered in this product are bismuth subgallate, balsam peru and bismuth oxide.
How effective is Anusol Suppositories?
Anusol Suppositories is an effective product for treating haemorrhoids. This product is an over-the-counter medication. WebMd.com, a credible online resource indicates that zinc oxide, the active ingredient in the product helps in providing temporary relief from the pain, itching and burning that is brought about by haemorrhoids. Along with other ingredients such as starch and cocoa butter, zinc oxide forms a protective barrier that prevents excessive irritating contact with stool.
Can I buy Anusol Suppositories online?
Anusol Suppositories, being an over-the-counter medicine can be bought online in pharmacies without a prescription. You can book an appointment with a health expert at Click Pharmacy to discuss how to best use this product. It can be purchased online in 12 and 24 suppositories per pack. If you buy in bulk, your package will be sent directly to you for free by Next Day Delivery.
What dose should I choose?
Anusol Suppositories are available in packs of 12 or 24. You should use them in the morning, at night time and after every bowel movement. The dosage that you should take, or the length of time of your treatment depends on the extent of your condition and how responsive you are to the medication. Anusol Suppositories are not recommended for use by children.
How Should I Use Anusol Suppositories?
This medication is applied by inserting into the rectum, as directed by the doctor. You can use it 2 or 3 times in a day. The dosage and duration of your treatment is typically dependent on your medical condition and your responsiveness to the product.
Don't handle the suppository in your hand for a long time because it melts. After unwrapping the suppository, moisten its tip using a few drops of water. Then lie down towards your left side while bending your right knee. Using its pointed end, insert the suppository in your rectum by gently pushing it with your finger. Place it in your rectum deep enough to prevent it from sliding out. Don't get up yet, but keep on lying down for a few minutes. If you can, don't move bowels for a minimum of 1 hour to give time for the suppository to work.
Wash your hands following every use of the product. Note that this medication may cause staining in fabric.
Regularly use this product as prescribed so that you can obtain its optimal benefits. Don't use it more or less in dosage and frequency and longer than prescribed. Doing so won't hasten your treatment and may increase your risks for side effects.
If you have been using this product frequently and for a long time, consult your doctor before you decide to stop. Your condition might get worse if you abruptly stop using the medication. In this case, your dosage may gradually be decreased.
Notify your doctor if your symptoms do not improve, or else get worse.
Do not take this medication orally.
How does Anusol Suppositories work?
Applying Anusol Suppositories in the rectum help relieve the discomforting symptoms of internal and external haemorrhoids. It also treats other irritations in the ano-rectal area. The active ingredients contained in this product have mild antiseptic, protective and astringent components that allow them to constrict blood vessels. The substance balsam peru in the medication is known to enhance the proliferation of new cells
How long do I use Anusol Suppositories for before I notice a difference?
Anusol Suppositories is administered 2 to 3 times daily, particularly in the morning, night time and after moving bowels. Two weeks is generally the allocated time for its haemorrhoids treatment. For severe conditions, this product should be used 3 times daily or two suppositories twice daily is the recommended dosage. The length of treatment tends to depend on the severity of the condition and the patient's response to the medication.
What are the side effects of Anusol Suppositories?
Medicines may have side effects that affect different people in different ways. There are possible side effects of Anusol Suppositories, but not all of them may be experienced by everyone who uses the product. If any or all of the following symptoms occur, notify your doctor immediately:
Sensitisation or allergy reactions that include rash
Irritation on the application site such as itching, redness and burning sensation
Contact dermatitis
Talk to your doctor or pharmacist if you need more information about the side effects of this product. You can also read the leaflet that goes with the medicine package.
Speak to your doctor or consult our specialists at Click Pharmacy should you require any further advice.
When shouldn't I use Anusol Suppositories?
Do not begin this treatment if you are allergic to any ingredient of the product. This medicatiom is not recommended for use by children. Before using the suppository, consult your doctor if you have rectal bleeding or if there is blood in your stool. This may indicate a more serious and underlying condition. If your symptoms persist or worsen, notify your doctor. Pregnant or lactating women should talk to their doctor before using the suppository.
What is the difference between Anusol Suppositories and Anusol Ointment/Anuice?
Anusol Ointment is also used for relieving the symptoms of haemorrhoids and related problems in the anal area. However, it is in ointment form and can be used to treat external and internal symptoms. Secondly, Anuice is a cryotherapy treatment for the internal and external symptoms of haemorrhoids. It is used for applying cold therapy on the affected area.
What are Anusol Suppositories used for?
Anusol Suppositories are used to provide relief from discomfort, itching, swelling and irritation caused by anal itching and internal piles.
Can children use Anusol Suppositories?
Anusol Suppositories are not suitable for children, they should be used by adults only.
How do I use Anusol Suppositories?
You should insert a suppository into the back passage before going to bed, first thing in the morning and after every bowel movement.
For how long should I use Anbesol Suppositories?
While using Anbesol Suppositories your treatment should last about 7 days. Although a 7 day treatment is recommended, it may differ depending on the severity of your case.
How do I store Anusol Suppositories?
You should store Anusol Suppositories in a cool dry place, out of reach from children, at room temperature. This medication should not be exposed to extreme temperatures.
What if I experience an urgent bowel after inserting the suppository?
You should avoid bowel movements for at least an hour after inserting a suppository. However if you experience an urgent bowel, you may remove the suppository, although this is not recommended.
Why do Anusol Suppositories sting when I use them?
Stinging is a common side effect many experience while using Anusol Suppositories. Over the course of your treatment side effects such as stinging should begin to disappear.
Can pregnant women use Anusol Suppositories?
If you are pregnant, trying to get pregnant or breastfeeding you should consult with a GP or pharmacist before using Anusol Suppositories.
Are Anusol Suppositories for external use?
Anusol Suppositories are for external use only.
Can I combine Anusol Suppositories with other medication?
Although it is usually safe to take Anusol Suppositories with other medications, you should avoid using Anusol Suppositories if you take any medication to treat constipation. Remember to always consult with a GP or pharmacist before combining different drugs and medication.
What if I forget to use Anusol Suppositories?
If you forget to use Anusol Suppositories you can apply it as soon as you remember. If you do not remember until it is time for your next dose, you can skip the previous dose and continue your usual treatment routine.
Can I drink alcohol while using Anusol Suppositories?
Yes, it is safe to drink alcohol while using Anusol Suppositories.
Does using Anusol Suppositories affect my fertility?
There is no evidence to suggest that using Anusol Suppositories affects one's fertility in any way.
Does using Anusol Suppositories affect my contraception?
There is no evidence that suggests using Anusol Suppositories affects one's contraception.
While using this medication you are likely to experience common side effects such as itching, irritation, burning, stinging and redness around the infected area. These symptoms may disappear after a few uses as your body gets used to this new medication and learns to adapt. Although this is rare, it has been reported that there is a possibility of this medication being absorbed into the bloodstream. However this does not outweigh the benefits of this medication, and the advantages it brings to one's health.
Always read the patient information leaflet before starting your treatment. The patient information can be found here.
Authored by Jana Abelovska
Last reviewed 20 April 2021
How to order
Order your medication in a few clicks. Our process is easy, fast and secure.
Step 1
Quick Health Check
Fill out a questionnaire so our prescriber can assess if the treatment is suitable for you.
Step 2
Select a Treatment
Choose the medication you require from the range offered by our online pharmacy.
Step 3
Next Delivery
Add delivery details and complete payment process.
What do our customers say?
Jane C
January 29, 2022
Fabulous service, quick and assertive, nice to be able to have an alternative service whilst the nhs are struggling!
Kristin W
January 2, 2022
Happy with how quick they reply to me and the
Delivery was quick as well would definitely use them again in the future.
Robert F
December 9, 2021
Glad to have you there. Efficient, professional service. The next day delivery is always delivered on time as promised.
Medical News and Blogs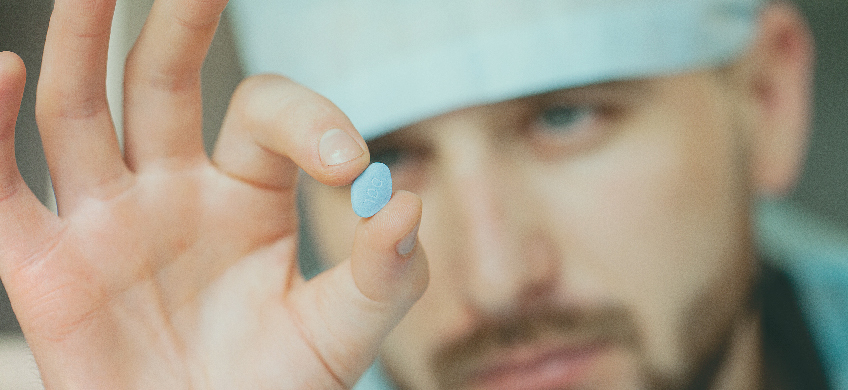 How The Little Blue Pill Revolutionized Relationships
It all began in 1998 when one of the greatest modern medical marvels was approved for sale in the world. Viagra, also affectionately called 'The Little Blue Pill', was originally meant....
Read