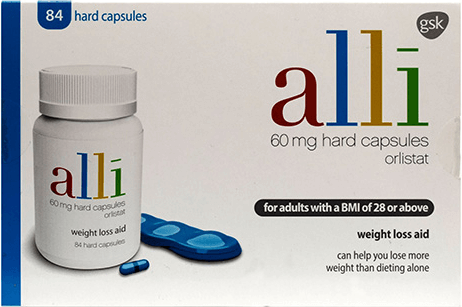 Estimated Delivery
Expected delivery date:
Tuesday, 10 May 2022
If you order within:
12h 36m 20s
*Your cart must meet the minimum requiretments for next day delivery
Fast
Delivery
Quick
Assessment
UK Registered
Pharmacy
Discreet &
Confidential
Overview
FAQ
Side Effects
Information leaflet
Reviews
What is Alli
Containing the active ingredient orlistat, Alli has been medically designed to assist those looking to lose weight. When combined with a low calorie, reduced fat diet, this medication provides an effective weight loss solution for those struggling with obesity, by targeting the fat in your digestive system.
It is recommended that you begin by trying to lose weight through a regular healthy eating plan and exercise program, but if you have found that this is not effective enough, then the use of Alli can support you in taking the next step.
How Effective Is Alli?
Alli is an effective way of managing and controlling your weight. As a licensed drug rather than a complementary medicine or a supplement, it contains an ingredient which has been scientifically tested and proven to be highly effective in helping people to reach their weight loss goals when used as directed. In fact its efficiency has been studied and proven in over 100 clinical trials.
Can I buy Alli online?
Alli does not require a prescription although you are very welcome to book an appointment with a health expert at Click Pharmacy to discuss how best to use this product. It can be purchased online in a 1, 2 or 3 month pack and will be sent direct to you by Next Day Delivery.
What dose should I choose?
Alli comes in packs of 84 tablets, each of which contains 60mg of the active ingredient orlistat. It is suitable for adults aged 18 years or over with a BMI of 28 or higher and is it recommended that it is taken three times a day.
How does Alli work?
Orlistat, the active ingredient in Alli, works by preventing your body from absorbing the fat you've ingested during meals by attaching itself to the enzymes which break down fat for absorption.
In this way, the medication stops the intestines taking in up to 25% of the fat that you eat meaning that for every 2lb of fat you lose with a low calorie diet, Alli will help you naturally lose 1lb extra.
This excess fat is passed from your body via your bowel movements, ultimately helping you to lose weight.
How should I take Alli?
Apart from being part of a healthy, balance lifestyle, Alli should be taken three times a day immediately before, during or within an hour of a meal containing between 12 and 18 grams of fat depending on your weight loss target. If a meal containing no fat is consumed then a dose of this medication will not be required. If you miss a tablet there is no need to take take one outside of this window of time - simply take the next one with food as directed.
You can take Alli for as long as it takes to reach your weight goals, but Alli suggests that this usually takes anywhere up to 6 months depending on your starting weight and ultimate goal. If after you stop taking them you begin to put weight on again, then you are able to begin using the tablets once again, though it is sensible to speak to a doctor before starting any weight loss plan. It is also important that you incorporate exercise as part of your weight loss regime.
Due to the active ingredient's ability to block fat, your body may find it harder to absorb certain vitamins. As such, your doctor may recommend that whilst taking Alli, you should also take a multivitamin daily containing the vitamins A, D, E, K and beta carotene. (Do not take this at the same time as Alli/food as the drug will still block some of these vitamins.)
How long do I take Alli for before I notice a difference?
When used consistently alongside a lower calorie diet and exercise, you should start to notice a difference within 2 weeks. If you do not notice any considerable differences by 12 weeks, book an appointment with your GP or a doctor at Click Pharmacy and you can be assessed for taking the higher dose prescription version of Alli.
What are the side effects of Alli?
The main side effect of using this medication can be changes to your bowel movement. Usually, this occurs when you first begin taking the tablets as your body takes a while to get used to the effects of them. As such, you may notice your stools become oily, fatty and loose, and you may suffer from abdominal bloating. It is also common to experience the urgent need for a bowel movement.
Other side effects may include lower back or side pain, muscle aches and pains, unusual tiredness or weakness, nausea, loss of appetite and headaches. Speak to your doctor or consult our specialists at Click Pharmacy should you require any further advice.
When shouldn't I take Alli?
Do not begin this treatment if you are on blood thinner tablets such as warfarin, any thyroid medication or cyclosporine. It is also unsuitable for those suffering from diabetes, anyone not overweight, if you are taking any other weight loss medication or else if you are pregnant or breastfeeding.
What is the difference between Alli & Orlistat / Xenical?
Orlistat is the active ingredient in each of the three products. The difference is that Alli is a non prescription version of the other two and contains 60mg whereas Xenical and orlistat contain 120mg.
Secondly, Xenical is the branded version of Orlistat which is the generic product and as such, Xenical costs a little more due to it's known brand name.
How much weight can I lose by taking Alli Tablets?
Data suggests more than 40 percent of people who take Alli weight loss tablets lost 5 percent of their body weight within a year.
What dosage should I be taking?
It is advised that one 60 mg tablet should be taken, within an hour of eating a meal, three times a day.
Can I eat fat-containing meals?
It is recommended that each meal contains a fat intake of around 15 grams.
What is the difference between Alli Tablets, Orlistat and Xenical?
Effectively they are the same as Orlistat is the active ingredient in all three of these weight loss medications. The main difference is branding and price, Xenical is a branded version of Orlistat while Alli Tablets are a cheaper non-branded alternative.
Does taking Alli Tablets affect my general health?
Although taking Alli Tablets does not cause harm to anyone's health in any way, it is advised to take multivitamins at least two hours before your last dose of Alli Tablets.
Can pregnant women take Alli Tablets?
Pregnant and breastfeeding women should not take Alli weight loss tablets.
Can I take Alli if I am at a healthy weight?
Alli weight loss tablets are effectively aimed at anyone overweight trying to maintain a healthy lifestyle. Anyone who is at a healthy weight should refrain from using Alli weight loss tablets.
Do Alli weight loss tablets help lose belly fat?
Data suggests that Alli weight loss helps to reduce a type of belly fat known as visceral fat.
How long should I take Alli for?
You should not take Alli weight loss tablets for more than one six month period.
Can I eat anything while taking Alli weight loss tablets?
You should aim to eat low fat meals and increase your intake of fruits and vegetables.
Can children take Alli weight loss tablets?
Alli weight loss tablets are not suitable for anyone under the age of 18 years old.
Should I take multivitamins while taking Alli weight loss tablets?
You should take daily vitamins including vitamin A,D,E and K while using Alli weight loss tablets.
What if I forget to take my Alli weight loss tablets?
If you forget to take your dose of Alli weight loss after an hour of having consumed a meal you should carry on taking your regular dose with your ext meal.
How long should I wait between taking two doses?
It is advised your three doses of Alli a day should be spaced out by at least 2 hours.
If I eat more than 3 meals a day should I take a capsule with every meal?
No, you should not take Alli weight loss tablets more than three times a day.
What if I skip a meal?
Studies suggest Alli weight loss tablets are most effective when eaten with 3 low fat meals a day. If you skip a meal, meaning you eat less than 3 meals a day, you should also skip that dose of Alli.
As Alli weight loss tablets aim to reduce the amount of fat in one's body, common side effects may include rapid bowel movements and discharge from anus. These side effects should be temporary as your immune system learns to adapt to these capsules. Possible side effects also include headaches and back pain, however you should not experience these as severely if you take multivitamins promptly.
Always read the patient information leaflet before starting your treatment. The patient information can be found here.
Authored by Jana Abelovska
Last reviewed 20 April 2021
How to order
Order your medication in a few clicks. Our process is easy, fast and secure.
Step 1
Quick Health Check
Fill out a questionnaire so our prescriber can assess if the treatment is suitable for you.
Step 2
Select a Treatment
Choose the medication you require from the range offered by our online pharmacy.
Step 3
Next Delivery
Add delivery details and complete payment process.
What do our customers say?
Jane C
January 29, 2022
Fabulous service, quick and assertive, nice to be able to have an alternative service whilst the nhs are struggling!
Kristin W
January 2, 2022
Happy with how quick they reply to me and the
Delivery was quick as well would definitely use them again in the future.
Robert F
December 9, 2021
Glad to have you there. Efficient, professional service. The next day delivery is always delivered on time as promised.
Medical News and Blogs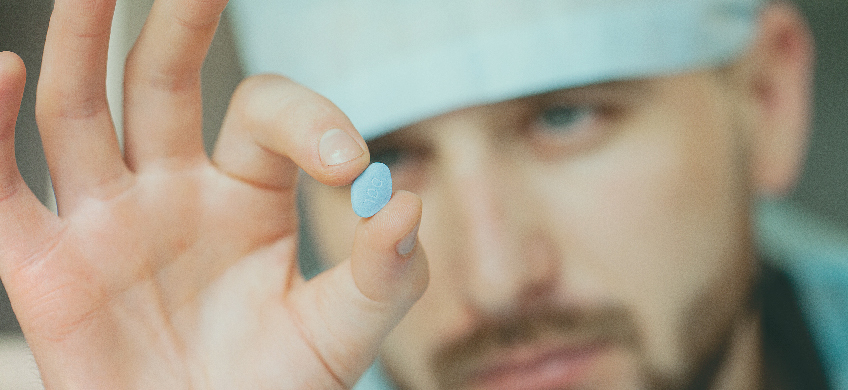 How The Little Blue Pill Revolutionized Relationships
It all began in 1998 when one of the greatest modern medical marvels was approved for sale in the world. Viagra, also affectionately called 'The Little Blue Pill', was originally meant....
Read