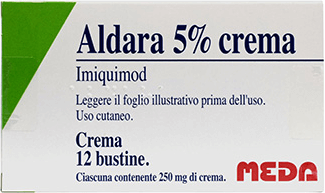 Estimated Delivery
Expected delivery date:
Tuesday, 10 May 2022
If you order within:
12h 36m 20s
*Your cart must meet the minimum requiretments for next day delivery
Fast
Delivery
Quick
Assessment
UK Registered
Pharmacy
Discreet &
Confidential
Overview
FAQ
Side Effects
Information leaflet
Reviews
Read up
What is Aldara Cream
Aldara cream is used to treat the warts which appear on the genitals due to an infection from the human papillomavirus (HPV) after sexual contact with a carrier. Warts will usually clear up on their own after a time but they can be uncomfortable, embarrassing and life affecting as the sufferer should not have sex during a flare-up due to the ease of transmission to a partner. As such, topical, medicated creams such Aldara can speed up the healing process and help the patient get back to normal.
Can I buy Aldara online?
Aldara is a prescription-only medication so you will be asked to fill in a medical questionnaire before our experts can approve you for treatment. In some instances, you may prefer to have a face to face appointment via Skype or email with one of our in-house doctors to discuss your medical situation. Once approved you will be able to purchase your treatment via the Click Pharmacy site and have it sent quickly and discreetly to your chosen address by next day delivery where possible.
Once you have your prescription you will be able to buy your medication again without redoing the health assessment.
How long can I take Aldara for?
Although the medication tends to work within 8 to 12 weeks, it can be prescribed for up to 16 weeks. If the treatment has not worked after this time then the doctor should be advised of this and they will consider other possible routes including another topical cream, or else minor procedures to remove the warts more directly including excision or freezing.
Once the warts have cleared it is vital you stop applying the cream as it can cause pain and damage to the healthy skin.
How effective is Aldara?
Studies have shown that the topical, medicated cream Aldara is effective and safe at treating genital warts with 50% of mixed-gender participants in one trial experiencing complete eradication of their warts in one 16 week treatment period (or until the warts were cleared - whichever came first). Another female-only study showed a 60% clearance rate with an average time for complete healing of around 8 weeks.
Due to the nature of HPV, recurrences of genital warts are commonplace as the virus remains in the system for the lifetime of the patient, reactivating and causing warts or other such symptoms, often when immunity is weakened, but not exclusively. It is positive therefore to know that such treatments are available which have been proven to actively heal the lesions and help the sufferer get back to normal more quickly.
Why choose Aldara?
Time and again Aldara has been shown to work effectively against genital warts. In part this is down to the way it causes the body to fight against them with its own natural immunity response, helping the warts to be destroyed from within.
Aldara cream has also been found to have very minimal side effects, if any in some cases. In fact most patients in one such study experienced no inflammatory responses at all, nor the flulike symptoms sometimes linked to such treatments.
What is contained in Aldara?
Each sachet of Aldara 5% cream contains the required dose of the active ingredient imiquimod along with the following inactive ingredients:
isostearic acid
benzyl alcohol
cetyl alcohol
stearyl alcohol
white soft paraffin
polysorbate 60
sorbitan stearate
glycerol
methyl hydroxybenzoate (E 218)
propyl hydroxybenzoate (E 216)
xanthan gum
purified water
How should I take Aldara?
Ensure you read the information leaflet supplied before beginning any kind of treatment and follow the advice of your doctor. Aldara cream should only be used on external warts, never internally, and should be applied in a thin, even layer after carefully washing and drying the affected area. It needs to be rubbed directly on to each wart separately until the cream disappears being careful not to get it on to surrounding healthy skin. Once on you should avoid showering or bathing.
The application should be done before bed so that the medication is given 6 to 10 hours to work without being disturbed. The following morning it is important the patient washes the cream off with a mild soap and fresh water. The amount in the sachet is enough for 3 square inches so the entire pack need not be used if you have warts covering a smaller area than this. The NHS recommends you also moisturise the area twice a day to soothe the treated skin using a mild cream such as Cetraben but you can discuss this with your doctor if you are unsure.
Men using the cream on warts beneath the foreskin should retract the foreskin daily, washing it with mild soap and water to clean the medication off the skin.
If you find that you experience any issues from using this medication then contact your GP or Click Pharmacy doctor immediately for advice.
How does Aldara work?
The active ingredient found in Aldara cream is imiquimod which is an immune response modifier which is designed to either enhance or suppress the body's automatic response to something abnormal. In this case, Aldara causes the patient's natural immune response to be enhanced and encourages its natural defences to respond to the abnormal cells of the wart. The immune system is locally triggered by the application of the cream causing a release of cytokines which signal the desired response. These can then destroy the abnormal cells which are causing the warts and as they die, new healthy cells will develop.
What are the side effects or risks from using Aldara?
As with any medication, Aldara can cause side effects though usually they are only mild, and the most common is erythema or reddening of the skin in the area where the medication is applied.
Other potential side effects include swelling, headaches, erosion of the skin in the damaged area, pain during intercourse, bowel symptoms, sickness, thrush, dizziness, flu-like symptoms and migraines.
If you are breastfeeding you should not use Aldara as it is presently unknown whether the active ingredient could be passed into the mother's milk. You should discuss this with your midwife, GP or Click Pharmacy doctor before beginning a course of treatment. You should also inform your doctor if any of the following apply to you:
previous issues with imiquimod
low immunity
abnormal blood count
looking to apply the ointment on an area which has been wounded or has recently had a surgical procedure
you require internal treatment
Before beginning a new treatment, let your doctor know about any other medications you are currently using, (including complementary medicines and vitamins), as well as any allergies you may suffer from to ensure this drug is safe for you to use and to limit any possible side effects as much as possible.
How long does it take for Aldara cream to start working?
It usually takes around 8 to 10 weeks for warts to begin disappearing.
Is Aldara Cream for internal use?
No, Aldara Cream is for external use only.
What if I accidentally get Aldara Cream in my eyes?
You should wash your eyes with lukewarm water immediately for about 2 minutes.
Can pregnant women use Aldara Cream?
Pregnant and breastfeeding women should not use Aldara Cream.
Can children use Aldara Cream?
Aldara Cream is not suitable for anyone under the age of 12 years old.
Can I go in the sun after using Aldara Cream?
You should not use sunbeds and tanning beds if you are using Aldara Cream. You should also avoid going into the sun as much as possible and always use sunscreen with an SPF of at least 30.
Does using Aldara Cream prevent me from participating in sexual activity?
You should avoid oral sex while using Aldara Cream. If you decide to still participate in sexual activity ensure the cream is thoroughly washed off and cleansed where applied.
What if I forget to apply Aldara Cream?
If you forget to apply Aldara Cream, apply the cream as soon as you remember and then continue applying at the regular advised intervals. You should refrain from using two doses at once, even if you have missed the previous dose.
Can I apply Aldara Cream anywhere?
You should not apply Aldara Cream on warts inside the urethra, vagina or anus. This is due to the lack of studies supporting the use of Aldara Cream around these areas.
How do I use Aldara Cream?
Before applying the cream, thoroughly wash your hands. Begin applying a thin layer of Aldara Cream around the infected area and rub gently into the skin until the cream disappears.
How do I store Aldara Cream?
Aldara Cream should be stored safely in a cool dry place at room temperature out of reach from children.
What is the difference between Aldara and Imiquimod?
Aldara Cream and Imiquimod are effectively the same, the main difference is branding. While Imiquimod is the active ingredient, Aldara is the brand name used to prescribe it.
What if I use too much Aldara Cream?
Using too much Aldara Cream can potentially lead to serious skin reactions. If you experience a reaction immediately wash off any excess cream with lukewarm water thoroughly.
What if I accidentally swallow Aldara Cream?
Aldara Cream is for external use only. If you accidentally swallow Aldara Cream, seek medical assistance immediately.
When do I use Aldara Cream?
Aldara Cream should only be used once a day.
Why is Aldara Cream causing more warts?
While using Aldara Cream you may notice the appearance of new warts, do not worry this is a good sign indicating that the cream is working.
When can I stop using Aldara Cream?
You should not use Aldara Cream for more than 16 weeks.
Although many people who use this medication do not have any serious side effects some may experience redness, burning, swelling and itching around the infected area. These symptoms should only remain for a short period of time, if they begin to worsen stop using Aldara Cream and seek medical advice.
Always read the patient information leaflet before starting your treatment. Patient information can be found here.
Authored by Jana Abelovska
Last reviewed 20 April 2021
How to order
Order your medication in a few clicks. Our process is easy, fast and secure.
Step 1
Quick Health Check
Fill out a questionnaire so our prescriber can assess if the treatment is suitable for you.
Step 2
Select a Treatment
Choose the medication you require from the range offered by our online pharmacy.
Step 3
Next Delivery
Add delivery details and complete payment process.
What do our customers say?
Jane C
January 29, 2022
Fabulous service, quick and assertive, nice to be able to have an alternative service whilst the nhs are struggling!
Kristin W
January 2, 2022
Happy with how quick they reply to me and the
Delivery was quick as well would definitely use them again in the future.
Robert F
December 9, 2021
Glad to have you there. Efficient, professional service. The next day delivery is always delivered on time as promised.
Medical News and Blogs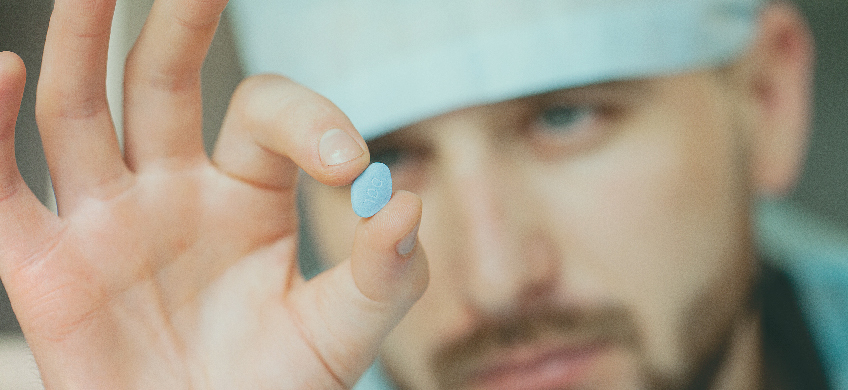 How The Little Blue Pill Revolutionized Relationships
It all began in 1998 when one of the greatest modern medical marvels was approved for sale in the world. Viagra, also affectionately called 'The Little Blue Pill', was originally meant....
Read